Johnson's Newest ERG, JSC Parenting, is Really an Old Friend Group with Renewed Purpose
by Catherine Ragin Williams | 2022-11-17
In September, NASA Johnson Space Center's newest Employee Resource Group (ERG), JSC Parenting, was approved by the Inclusion and Innovation Council right around National Working Parents Day — a happy and fitting coincidence. With nearly 400 members and growing, the former subcommittee of the Women Excelling in Life and Leadership (WELL) ERG was ready to branch out to provide resources for all Johnson parents, guardians, and supporters of parents.
"The JSC Parenting ERG represents what is possible when employees gather around a specific theme or affinity," said Robert Blake, acting director, JSC's Office of Diversity & Equal Opportunity (ODEO). "Throughout the pandemic, this subgroup of the WELL ERG supported me and countless other employees agencywide. As a single parent of two children and the acting director of ODEO, I personally witness this support firsthand and observe the incredible impact their resources continue to have on so many. I hope other dedicated fathers will recognize the benefits of membership — as their inclusion was an important tenet of the group's desire to spin off into a fully independent ERG."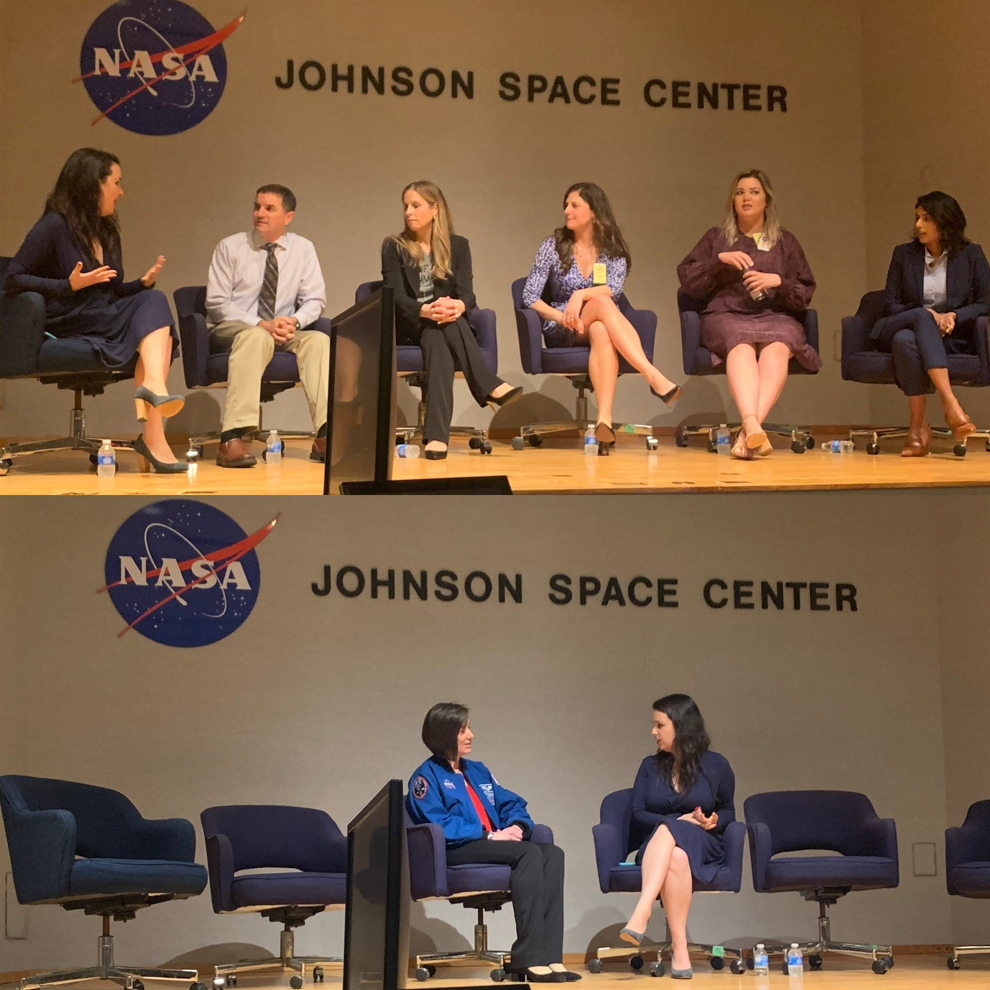 JSC Parenting officially launched in February 2020 with a vibrant panel discussion and fireside chat led by New-York-City-based Mindr Global with panelists Megan Behnken, Rex Walheim, Mary Lawrence, Pooja Jesrani, and Parenting ERG representatives from Facebook and Google. Mindr also conducted a Work/Life Success workshop during their visit. Credits:​ Courtesy of the JSC Parenting ERG
In becoming its own ERG, JSC Parenting allows WELL to focus its attention as a force for women and encourages continued growth and support within the center's parenting community. Formalizing the leadership team under the ERG umbrella, with Erin Sholl as JSC Parenting ERG chair, also brings increased resources, visibility, and support. Perhaps most importantly, welcoming more dads into the fold puts inclusivity into practice, strengthening the group by encouraging a diversity of opinions and topics explored.   
This ERG's beginning, however, was much more humble.                     
Back in September 2019, Susan Schuh, the JSC Parenting WELL subcommittee chair, unintentionally kicked off JSC Parenting when she coordinated bringing the pumpspotting organization onto the campus to support nursing mothers like herself and new families. It's how a lot of JSC Parenting events have taken shape: they see an interesting writer or expert on social media sharing a message helpful to parents and families and invite them to share with the JSC Parenting community.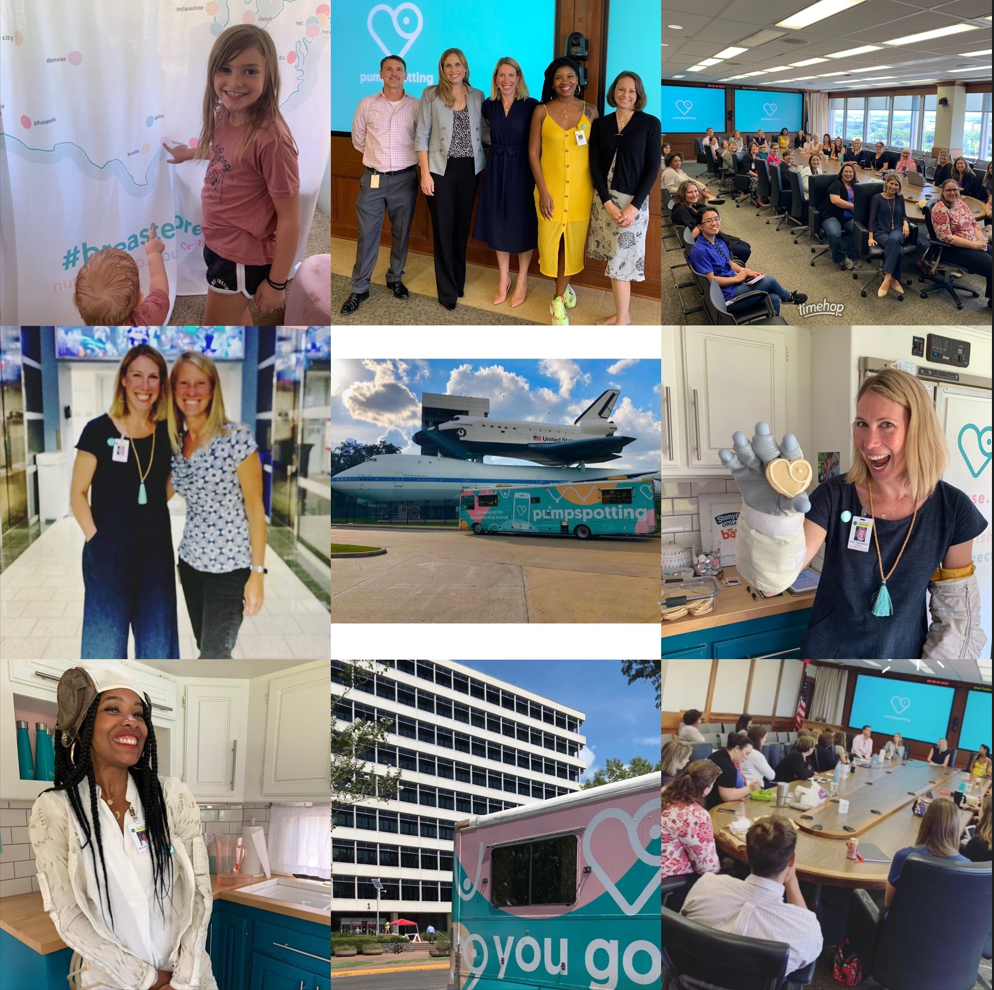 In September 2019, thanks to the assistance of JSC's Office of Diversity & Equal Opportunity and the Women Excelling in Life and Leadership Employee Resource Group (ERG), the pumpspotting team brought their 40-foot lactation support RV on-site, parked in front of Building 1 (and other locations on-site) and provided an open and honest panel discussion with about 35 JSC parents (current and soon-to-be) and Johnson's Mary Lawrence, Warnecke Miller, and Robert Blake​. Credits: Courtesy of the JSC Parenting ERG
After seeing the positive response to the pumpspotting event, it was clear building a parenting community could be of value to JSC. Schuh was directed to WELL, who welcomed JSC Parenting as a subcommittee in January 2020. Sholl and Rachael Myerly of NASA joined to lend their leadership.
Two factors helped elevate JSC Parenting to its current status. One, Johnson's workforce is made up of 40-50% parents, which means a huge contingent is served by the group's resources, presentations, and collaborative Teams channel, where ideas and support are freely shared. (The Teams channel, in fact, is one of the most active for an ERG.)
The other memorable reason was the pandemic, which left parents adrift in uncharted waters, especially when the kids were sent home from school for months of virtual learning.
"It gives me chills … how fortuitous it was that it happened, honestly, because if there was ever a time that we needed [JSC Parenting] — it was March of 2020," Sholl said. "And it just kind of blew up from there."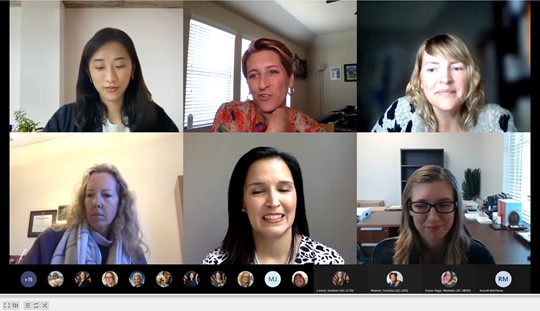 On Oct. 13, 2021, the Women Excelling in Life adn Leadership ERG JSC Parenting and Work + Life subcommittee welcomed Wake Forest University, University of Alabama, and Asia School of Business researchers Julie Holliday Wayne, Maura Mills, Yo-Ren Wang, Marilyn Whitman, and Russell Matthews to discuss mental load and its effects on work-life experiences, employee attittudes and engagement, and work-life interface and gender. Credits: Courtesy of the JSC Parenting ERG
Before COVID, JSC Parenting had planned to take off with informal coffee chats and other in-person events. But as the infections and fears started to climb, they quickly shifted to virtual collaboration via Teams and surveys to get a pulse on what parents were going through.
"We started with surveys and said — just tell us how you're doing, because we're all at home at that point. We had no choice but to check in virtually and were pleasantly surprised with how employees were willing to share anonymously." Schuh said.
"I am a supervisor, so I like to try to give the perspective from that side, too," Sholl added. "I like to think we've had a small part in helping senior management see what people really needed."
JSC Parenting got a feel for the issues most pressing for parents who were trying to make this new world work, while working — and hosted virtual events in response, oftentimes pulling on Johnson's Employee Assistance Program (EAP) to lend their expertise and wise counsel.
"We focused our fall 2022 monthly meetup with the EAP on survey responses, including continued reports of burnout," Schuh noted. "We've got such a good rapport going with the EAP team. We had a pretty candid conversation a few months ago addressing that parents still need support for burnout and many other topics, and built the fall meetup and related resources from the EAP based on the feedback from our parenting community."
The virtual landscape, predictably, and the camaraderie often found on the JSC Parenting Teams channel was a compelling aspect for those juggling the demands of being everything to everyone.
For the women instrumental in getting JSC Parenting off the ground, their favorite part of the group is its sense of community. "People just needed that place to vent and come together and know that they weren't alone," Sholl said.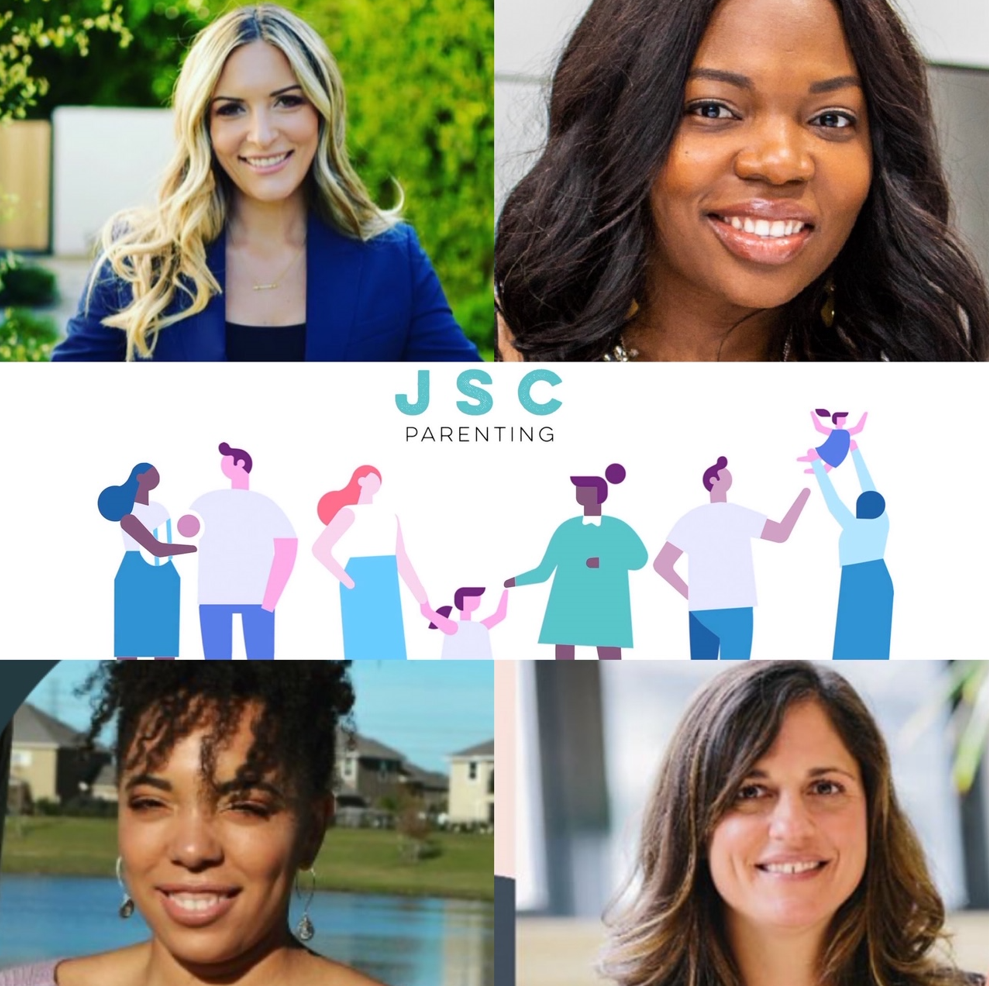 On Sept. 17, JSC Parenting welcomed Eve Rodsky, New York Times bestselling/Reese Witherspoon Book Club author of "Fair Play;" Blessing Adesyian, Mother Honestly founder and CEO; and Bethanie Baynes, creator of the "Google Breadwinning Women" and "Working Wife, Happy Life" podcast, for a moderated discussion by our own Rachel Pierre, JSC parent and Mommifaceted founder. ​Credits: Courtesy of JSC Parenting
Throughout its three years and counting, JSC Parenting has hosted a wide array of presentations, addressing hot topics from nursing at work to summer activities for kids during the pandemic to raising kind children in a prejudiced world.
Find all past topics and associated resources HERE.
They've only just scratched the surface of available subjects and hope to learn more — alongside its burgeoning community of moms, dads, and caregivers alike — in the future.
The JSC Parenting team is proud of the influence they've had in making Johnson stronger by supporting parents who are, meanwhile, supporting NASA's missions. As the space agency embarks on a new era of human space exploration, our collective resilience will be more important than ever.
Want in? Join the JSC Parenting community.