Johnson Scientist Reflects on Webb's First Images After Years of Testing
by Anna Lassmann | 2022-07-12
Ten years after testing of the James Webb Space Telescope commenced at NASA's Johnson Space Center in Houston, Texas, the first images have been released. Jonathan Homan, who has worked on Webb since the initial testing concepts emerged in 1999, reflects on the latest milestone for the telescope.
Beginning in 2006, Homan served as the lead for modifications to the thermal and vacuum systems for creating the deep space environment before becoming a deputy project manager and then the project manager for the final flight testing of Webb.
"I am definitely very excited," said Homan, current chief of the Systems Test Branch at Johnson. "I am most excited to see images of planets outside our solar system, and especially if the telescope can detect an atmosphere that has the potential to support life."
The first tests at Johnson in 2012 commissioned the chamber, followed by testing of the optical ground support equipment, vibration mitigation systems, and the Webb engineering pathfinder unit. The testing concluded in 2017 after being sealed inside the historic Chamber A — a massive thermal vacuum testing chamber at Johnson — for more than 100 days.
The tests inside Chamber A focused on the optical telescope and integrated science instrument module, ensuring Webb functioned as expected in an extremely cold, airless environment akin to that of space. The testing also included an important alignment check of Webb's 18 primary mirror segments.
While the telescope was sealed inside Chamber A, Hurricane Harvey struck the coast of Texas, dropping as much as 50 inches of rain in and around Houston. Many Webb telescope team members at Johnson endured the storm to ensure the testing was not interrupted.
"The telescope testing was very successful during the worst of the storm, and while the telescope and chamber didn't know a massive flooding event was happening, the building and occupants did," Homan said. "The team on shift and the support from the center to help was tremendous."
"When the storm hit, we had just spent 45 days cooling the telescope to its flight temperature of approximately minus 405 degrees Fahrenheit (30 kelvins), and we moved the mirrors from their launch lock position and worked to align all the segments into a perfect monolith," Homan added. "If this could happen during a storm, I was very confident that in space the alignment would be successful, which it was."
Looking to the future and past the first images, Homan said he hopes Webb will help scientists solidify the age of the universe and understand dark energy and dark matter.
"The telescope is a powerful general science tool," Homan said. "I really don't know what all it will answer for physics, but it is a tool available to many for unknown scientific discoveries."
Learn more about the first images from the James Webb Space Telescope at:
https://www.nasa.gov/webbfirstimages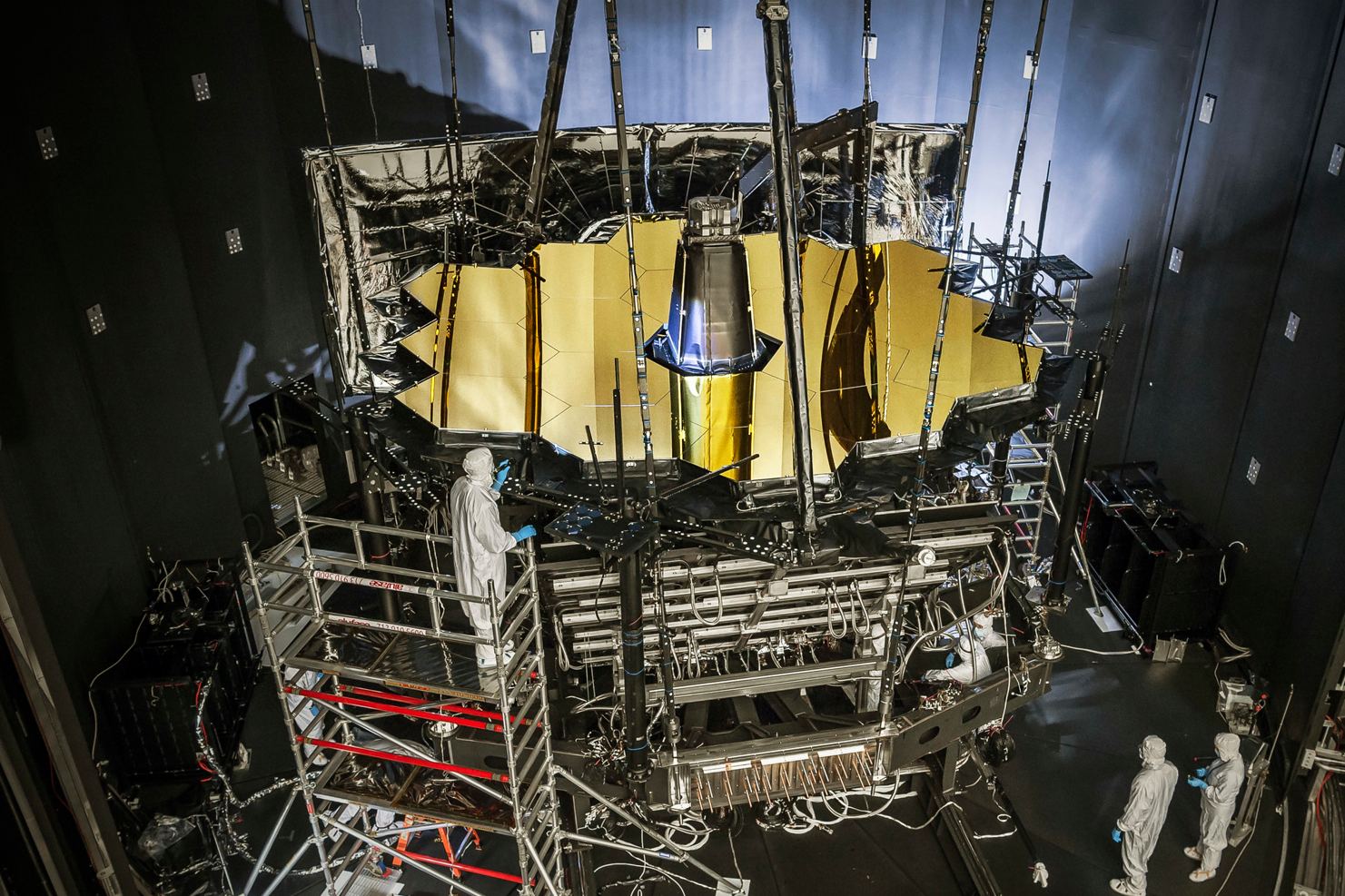 Engineers inspect NASA's James Webb Space Telescope as it sits inside Chamber A at the Johnson Space Center in Houston, Texas. Webb completed its final cryogenic testing inside that chamber on Nov. 18, 2017. Credits: NASA/Chris Gunn