NASA's Exploration Atmosphere: New Prebreathe Protocol Study for Planetary Exploration
by Anna Lassmann | 2022-07-13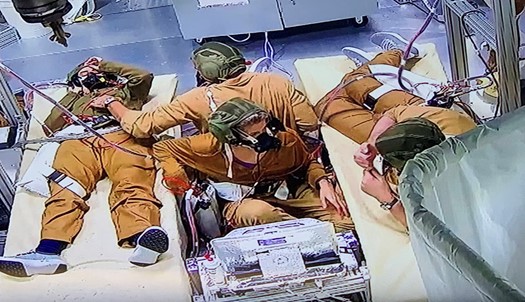 Four of the participants are pictured during a rest and doppler-monitoring phase of a simulated spacewalk. From left: Rihab Sadik, Brian Prejean, Karina Marshall Goebel, and Andrzej Stewart. Credits: Andrew Abercromby
Eight volunteers recently emerged from a 20-foot chamber at NASA's Johnson Space Center in Houston after spending 11 days in a reduced-pressure environment as part of a series of studies to determine how extravehicular activity, or EVA, operations can be conducted safely and frequently on the surface of the Moon or Mars.
The study series, known as the Exploration Atmosphere Prebreathe Validation, aims to evaluate alternative prebreathe protocols that crew members can undertake prior to future planetary EVA operations, maximizing time on a spacewalk while minimizing risk of decompression sickness, or DCS.
DCS occurs when there is more nitrogen in your body than in the surrounding atmosphere, and it poses a greater risk than simply causing headaches, pain, and fatigue. It can lead to serious illness and impede mission objectives.
To mitigate the severity of DCS in astronauts, NASA uses oxygen prebreathe protocols prior to spacewalks, which reduces nitrogen in astronauts' bodies to acceptable levels. However, no validated protocols currently exist for planetary EVA, and this study is designed to fill that gap.
Andrzej Stewart, Artemis navigation flight controller detailed, "Being the first full-length test of its kind here in the chamber, we've faced a good number of challenges along the way. But, with some ingenuity and hard work, we've managed to overcome a great deal. I believe we've given the science team a whole lot of great data to work with, and we've probably learned a few things about ourselves, too!"
During the initial study, which ran from June 7 to 17, 2022, the eight subjects experienced an initial prebreathe and depressurization to 8.2 psia, breathing a 34% oxygen atmosphere, followed by a 48-hour equilibration period. The subjects then began a series of five simulated spacewalks with the chamber at 4.3 psia while breathing 85% oxygen through specialized masks replicating spacesuit conditions.
Throughout the 11-day study, doppler and ultrasound imaging technologies, as well as 24/7 on-site medical monitoring, were used to continually observe subjects and respond to any suspected DCS symptoms. In addition, numerous measures are being recorded throughout the study to characterize any adaptations due to the environment having less oxygen and air pressure.
Spacesuit and Crew Survival Subsystem Manager Jeffrey Watters said, "When I told people we were going to spend two weeks locked inside a metal tube, they all thought I was crazy. But then I explained how we were validating the atmosphere for future exploration missions. I feel incredibly honored to be surrounded by such a smart, hardworking team — both inside and outside the chamber. This is a huge step on our way back to the Moon, and it's been awesome to play a small part in it — even if my dad thinks I'm crazy …"
The validation effort for this new prebreathe protocol is being led by NASA's Human Physiology, Performance, Protections, and Operations Lab in collaboration with numerous labs and organizations around Johnson. The project is funded and overseen by NASA's EVA and Human Surface Mobility Program.
Learn more about the Human Physiology, Performance, and Operations Lab at:
https://sservi.nasa.gov/articles/nasa-h-3po-human-performance-scientist/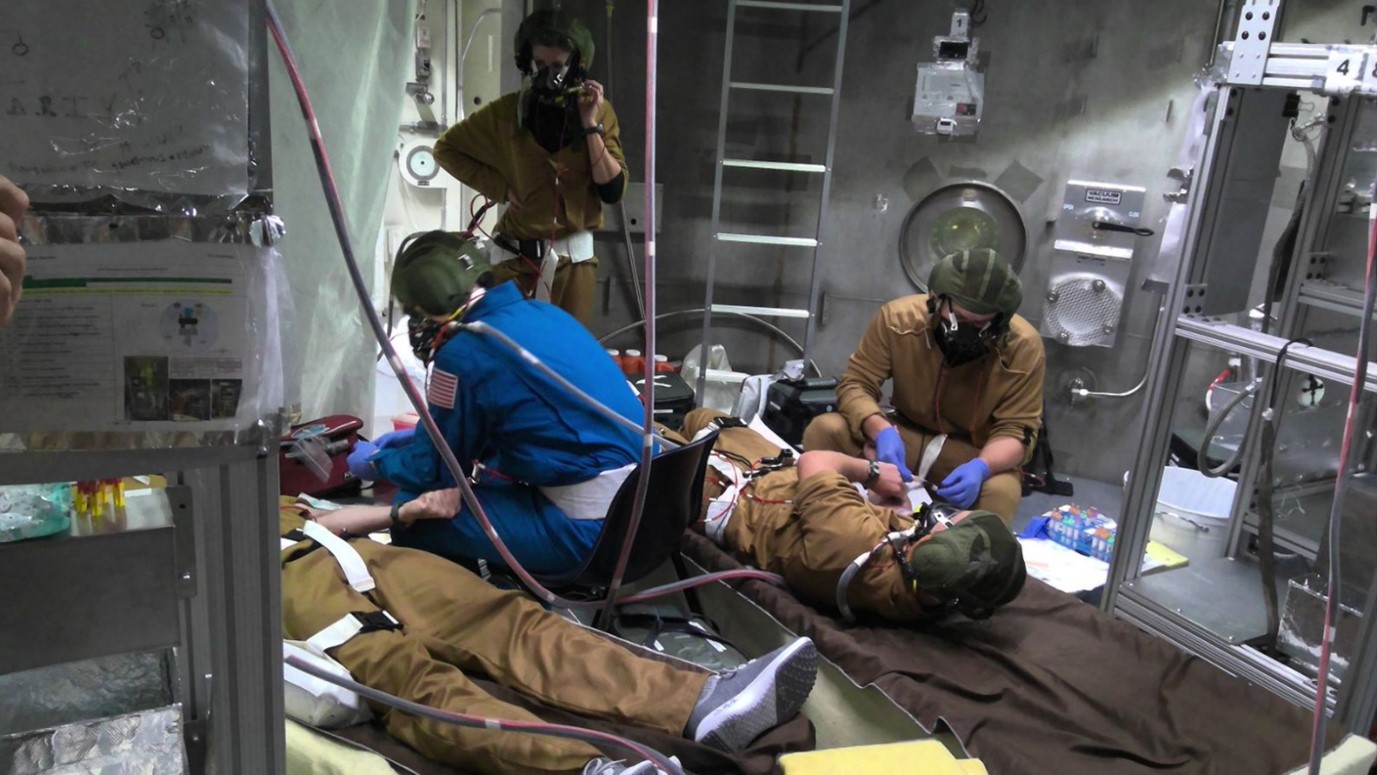 Blood samples were collected from subjects following one of the simulated spacewalks to characterize hematological, immunological, and inflammatory responses to altered atmosphere. Credits: Kate Suratt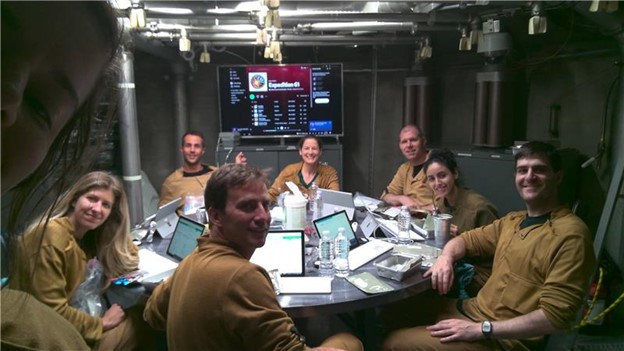 Prebreathe study participants enjoy each other's company, relaxation time, and quality music (courtesy of NASA astronaut Christina Koch's playlist) following completion of multiple surveys and assessments of appetite, food system acceptability, and related measures after mealtime. From left is Emily Matula, Karina Marshall Goebel, Brian Prejean, Chris Massina, Kate Suratt, Andrzej Stewart, Rihab Sadik, and Jeff Watters. Credits: NASA