Student-designed spacewalk tool hitching a ride to the space station
A student team from Lone Star College-Cy Fair created a novel new tool that will be flying to the International Space Station in spring 2019. College students taking part in Microgravity Neutral Buoyancy Experiment Design Teams (Micro-g NExT) designed a zip-tie cutter that can cut and retain zip ties during spacewalks. Thanks to the zip-tie cutter's success on the ground, it will be the first Micro-g NExT tool ever used in orbit. Its first slated use will be during the repair of the Alpha Magnetic Spectrometer (AMS), which is planned for no earlier than July 2019.
Zip ties, commonly used on payloads and hardware outside of the space station, must be removed to complete spacewalk objectives. Where and how these zip ties are used can vary widely, so the student-designed solution needed to be robust while also capable of reaching into small spaces. For AMS, zip ties have been used to hold hardware in place and must be removed during its repair.
The cutter's design was inspired by a click pen, allowing for a simple means to grab and release the snipped zip tie. Using one hand, an astronaut can simultaneously cut and capture the zip tie with the press of the top button—and can release the zip tie, when ready, by pressing a button on the side of the device. The importance of retaining the freed zip ties cannot be overstated, as any loose debris can become a hazard to the orbiting laboratory's modules and hardware.
"We were impressed by the students' ingenuity in creating this tool, which is exactly the outcome we had been hoping for when we first initiated Micro-g NExT with the support of the Human Exploration Mission Directorate," said Trinesha Dixon, NASA Johnson Space Center's Office of Education activity manager. "These students have demonstrated that the ability to look at an old problem in a fresh light can be, at times, exactly what is needed to further invention and innovation."
Through Micro-g NExT, college students are able to contribute solutions to real NASA challenges. Teams propose a concept and prototype of a tool identified by NASA engineers as necessary to improve space exploration. Neutral Buoyancy Laboratory (NBL) divers then test the tool while the students direct operations from the NBL's Test Conductor Room.
For the zip-tie cutter, Lone Star College-Cy Fair students and NASA divers were able to see it perform all of the required functions underwater, within the simulated microgravity environment. Additional testing was conducted by astronaut Chris Cassidy on the Active Response Gravity Offload System, or ARGOS, which further successfully demonstrated the tool's concept design was ready for the next stage of flight development.
With a new tool added to the kit for future spacewalking explorers, a challenge that used to be a nuisance during repair work has been solved. From the minds of students to the hands of astronauts—zip ties in space never stood a chance.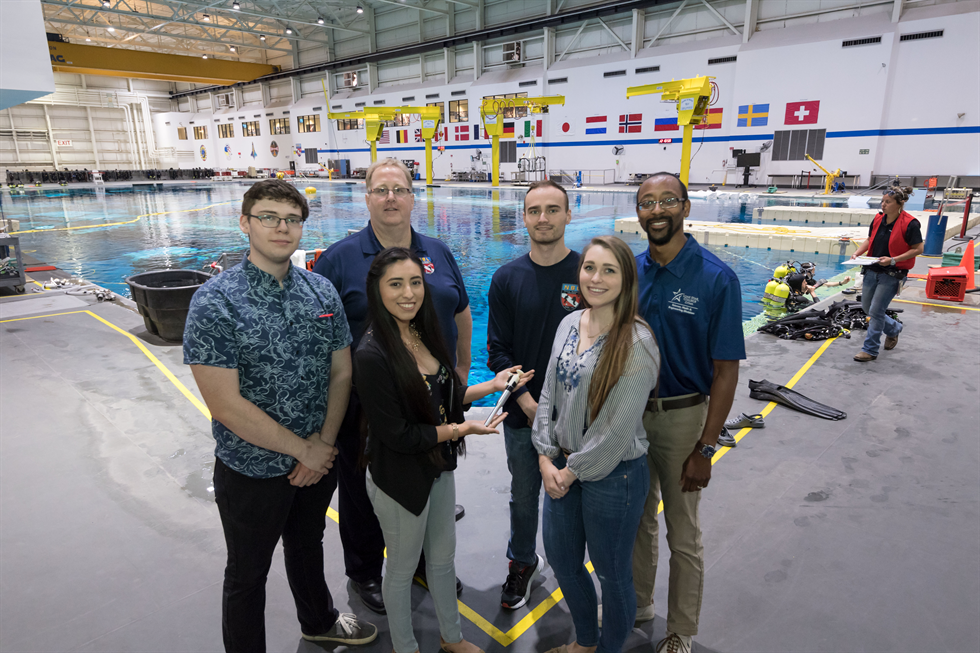 The student team from Lone Star College-Cy Fair that participated in Micro-g NExT pause for a photo with N
eutral Buoyancy Laboratory support staff and their zip-tie cutter, which is expected to be used in space in 2019.

Image Credit: NASA
Ryon Stewart
NASA Johnson Space Center