Recognizing Native American Heritage Month and NASA's First Indigenous Woman in Space, Nicole Mann
by Catherine Ragin Williams | 2022-11-22
November is National Native American Heritage Month, and the agency is celebrating the Indigenous Native American culture, sovereignty, and heritage that has been passed down from generation to generation for centuries. One generation, dubbed the Artemis Generation, is on the cusp of wondrous discovery as young people pursue pathways leading to education and careers in STEM — or science, technology, engineering, and math.
At the other side of this exciting future is the Moon, of course, which will be further with Orion and the Artemis program. Beyond that, new otherworldly destinations, previously only explored by robotic explorers, will be unearthed by humankind and a diverse astronaut corps representative of the many ethnicities and cultures found in our country and around the world.
NASA astronaut Nicole Mann recently made history as the first Indigenous woman to go to space. Serving as mission commander of Crew-5 and, now, flight engineer for Expedition 68, her personal journey shows that commitment and discipline can help level the playing field for people who dream big.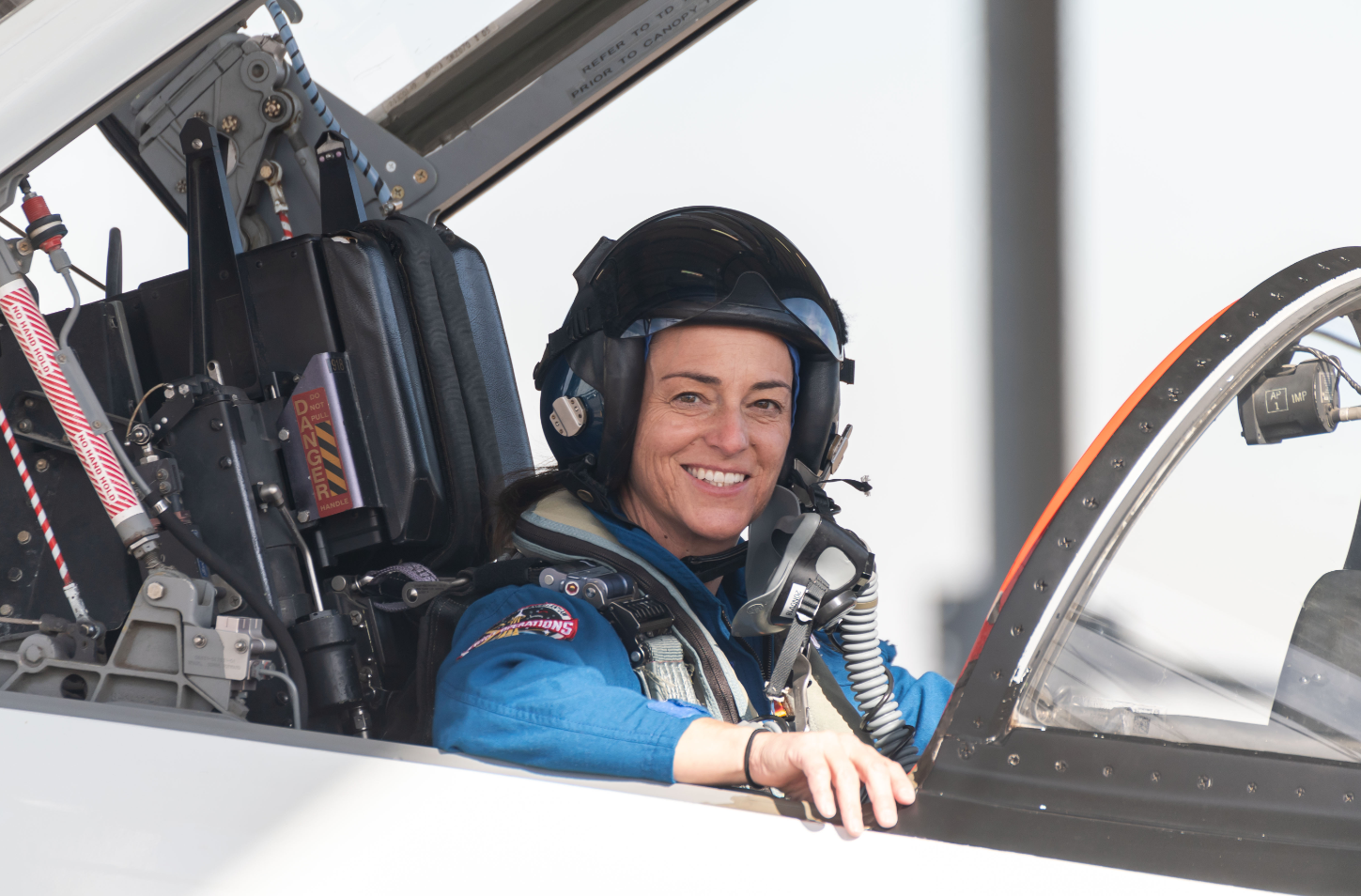 Astronaut Nicole Mann sits inside a T-38 trainer jet at Ellington Field in Houston. Credits: NASA
Before becoming an astronaut in 2013, the California native was a colonel in the U.S. Marine Corps and a test pilot in the FA-18 Hornet and Super Hornet. Prior to that, she had earned a bachelor's degree in mechanical engineering from the U.S. Naval Academy and a master's degree in mechanical engineering, with a specialty in fluid mechanics, from Stanford University.
Like many students in college, Mann didn't have it all figured out … at least not at first.
"[It] kind of might be a recurring theme for me, but I knew that I wanted to be a Marine pretty early on at the Naval Academy. I didn't know exactly what I wanted to do, though," Mann said.
One pivotal moment made all the difference in giving the future explorer clarity.
"During the summers you have an opportunity to train with the Marine Corps, kind of get a sense of what the different specialties are and try to determine where you think you would like to be in and excel. And so one summer before my senior year, I got a ride in the backseat of an F-18. And, I mean, I've got to be honest: that was it for me, right? That was the first time for some reason I realized, oh, wait, I can be a Marine and be a fighter pilot, and this is this is exactly what I would be doing. And I just fell in love with it."
Mann's flight is full of firsts — another one being that she is also the first woman to command a Crew Dragon. And while her leap from a kid fascinated with math and science to astronaut may seem effortless from the vantage point of a spectator, Mann has sage advice for those seeking the same high-flying career.
Regarding astronauts, "the one thing that everybody has in common is that they are passionate and love what they do," Mann said. "If you don't have that passion and that love — I think it's going to make it more challenging [and] tough to achieve those goals. And so more important than what that goal is, or identifying that goal early on, it's identifying what your passion is in life — and then just go crush it."
Learn more about Mann in Houston We Have a Podcast Episode 259: The Crew-5 Astronauts.
Watch as Mann talks with the Associated Press from the International Space Station on Oct. 19, 2022, and hear her special message to Indigenous boys and girls who also have big dreams they hope to achieve.
As part of Expedition 68, Mann will spend several months aboard the space station conducting new scientific research in areas such as cardiovascular health, bioprinting, and fluid behavior in microgravity to prepare for human exploration beyond low-Earth orbit and to benefit life on Earth.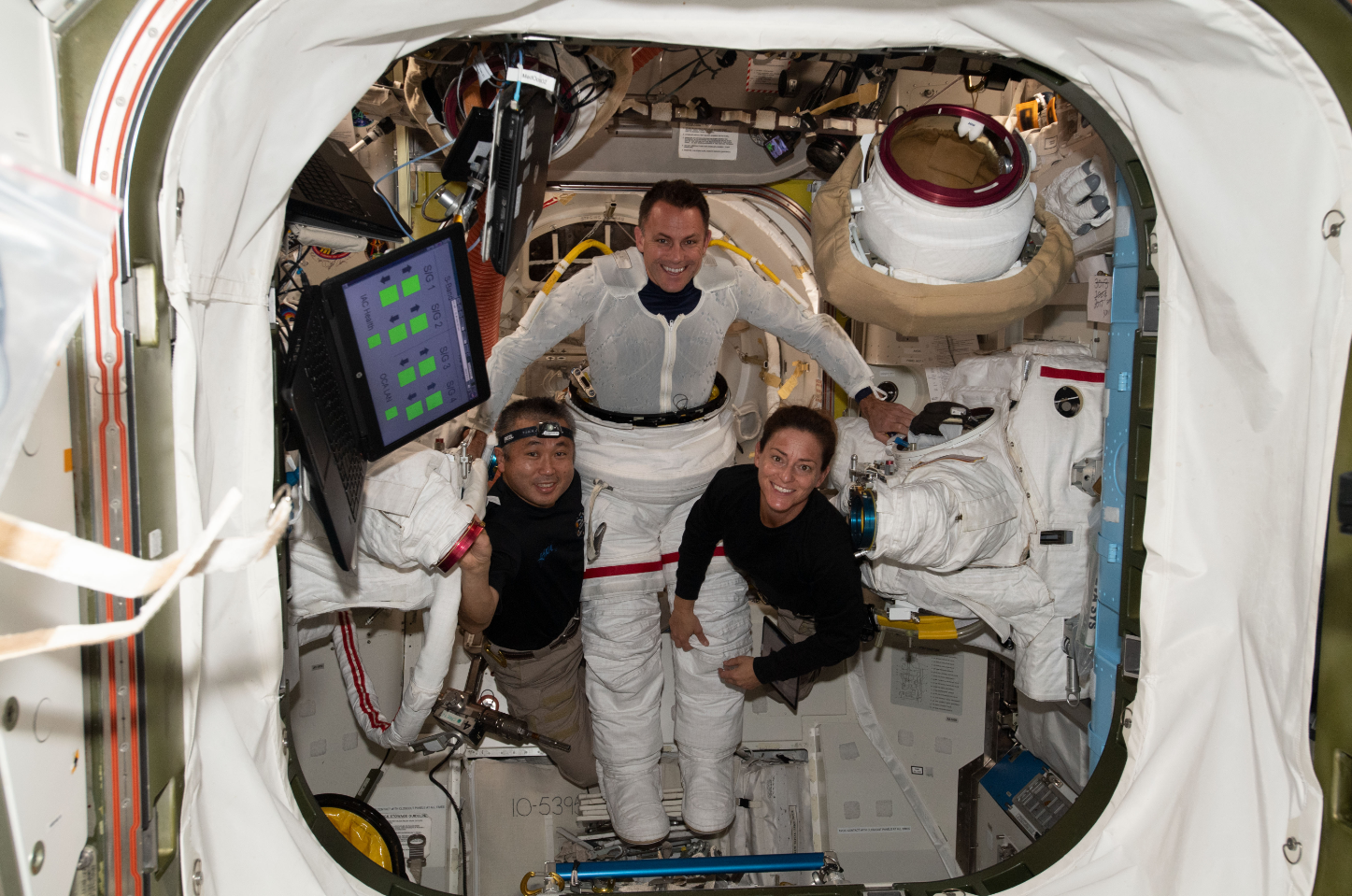 NASA astronaut Josh Cassada (center) is pictured trying on an Extravehicular Mobility Unit, or spacesuit, with assistance from astronaut Koichi Wakata (left) of the Japan Aerospace Exploration Agency and NASA astronaut Nicole Mann (right) inside the International Space Station's Quest airlock. Credits: NASA/Josh Cassada
NASA is also bringing tribal communities into the fold, specifically with Office of STEM Engagement programs like the Minority University Research and Education Project, or MUREP, and First Nations Launch.
Through MUREP, NASA supports minority-serving institutions, including Tribal Colleges and Universities (TCUs), through multi-year research grants and internships, scholarships, fellowships, mentoring, and tutoring for underserved and underrepresented learners in K-12, informal, and higher-education settings. Students interested in pursuing STEM fields can seek out schools that partner with NASA for additional opportunities.
The Wisconsin Space Grant Consortium First Nations Launch competition, meanwhile, is an Artemis Student Challenge that offers TCUs, Native American-Serving Nontribal Institutions, and active American Indian Science and Engineering Society collegiate chapters the chance to demonstrate engineering and design skills through rocketry. Teams of undergraduate students must conceive, design, fabricate, and compete with their original high-powered rockets, which are borne of the students' knowledge, creativity, and imagination. The result is a fulfilling aerospace learning experience unique to the Native American communities.
See the program in action, below.
Throughout November, we reflect on the long history of Native Americans in this country, recognize Indigenous Peoples' resilience, honor the Indigenous oral traditions passed down for each generation teaching of Earth and the universe, and come together to create a culture of respect and equity. As NASA Administrator Bill Nelson said in his note to the team, "Our agency is at its best when we celebrate and embrace the diversity and history of our workforce."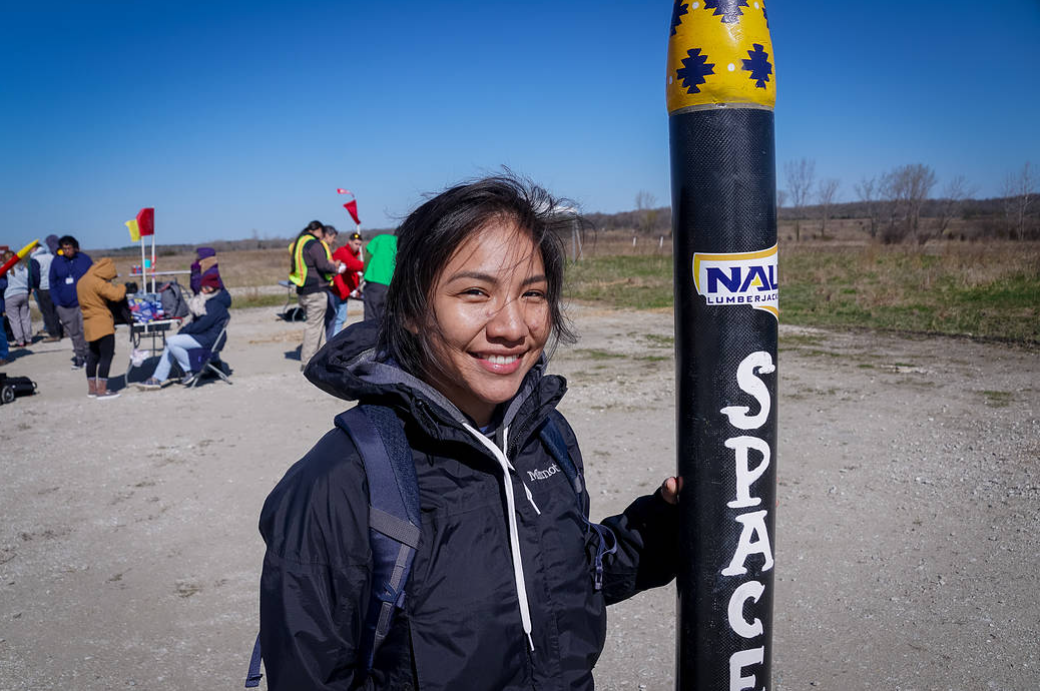 Stephanie Yazzie, Northern Arizona University student and NAU Space Jacks team member, poses with her team's rocket in this photo from the 2019 NASA First Nations Launch competition. Credits: Carthage College/Christine Bolz
NASA is highlighting its Native American workforce this month. Get to know the employees featured and learn about their contributions to the agency's missions: