NASA Night (Well, Afternoon) with the Astros on Saturday, July 16
by Catherine Ragin Williams | 2022-07-11
This Saturday, July 16, NASA astronaut Anne McClain will see if she can throw a mean strike like NASA Johnson Space Center Director Vanessa Wyche did during the NASA Night kickoff on May 2, 2022. In addition, a 17,500-mph fastball highlighted during the 2019 World Series, which was flown in space, will be featured during this weekend's 3:10 p.m. CDT game alongside NASA astronaut Jessica Meir, who will use it for a special "play ball" moment.
Attendees lucky enough to score tickets (get them while they last through Starport!) will see pre-game action beginning at 1:10 p.m. with the Driven to Explore mobile exhibit, spacesuit photo opportunity, and a postcards to space activity with Space Center Houston outside the stadium.
NEW!! Johnson team members with a July 16 game ticket can, prior to the game, purchase the add-on limited-edition Astros-themed Moon Lander bobblehead commemorating the iconic Apollo 11 Moon landing ($40). CLICK HERE to purchase.
Inside the ballpark, closer to the start of the game and during game time, fans can watch a pre-recorded message from the International Space Station, see NASA messages during inning changes and fun NASA facts highlighted on the big screen during the game, hear space-themed music, and more, along with the ceremonial first pitch. The Astros will sport their new Space City jerseys for the game — part of a three-year City Connect program in partnership with Nike to honor the "Space City" legacy of the team's hometown in a highly visible way. The Astros wear these space-inspired uniforms for each Monday home game as well as on NASA Nights.
Want to root, root, root for the home team? Do it in your NASA home-team-themed shirt(s) before they sell out. CLICK HERE to buy. Johnson team members can use the code JSCPICKUP to pick orders up in Building 11.
Leading up to the game on Friday, July 15, wear your Astros apparel or team colors on-site to help usher in this special NASA event. Be sure to send in your pics from the game or selfies showing your Space City spirit to rounduptoday@mail.nasa.gov for inclusion in a future gallery (like this one).
More NASA Nights are planned in the future — as of now slated for Aug. 1 and Oct. 3. Details will be forthcoming on how Johnson team members can take part in cheering on their favorite Space City baseball team!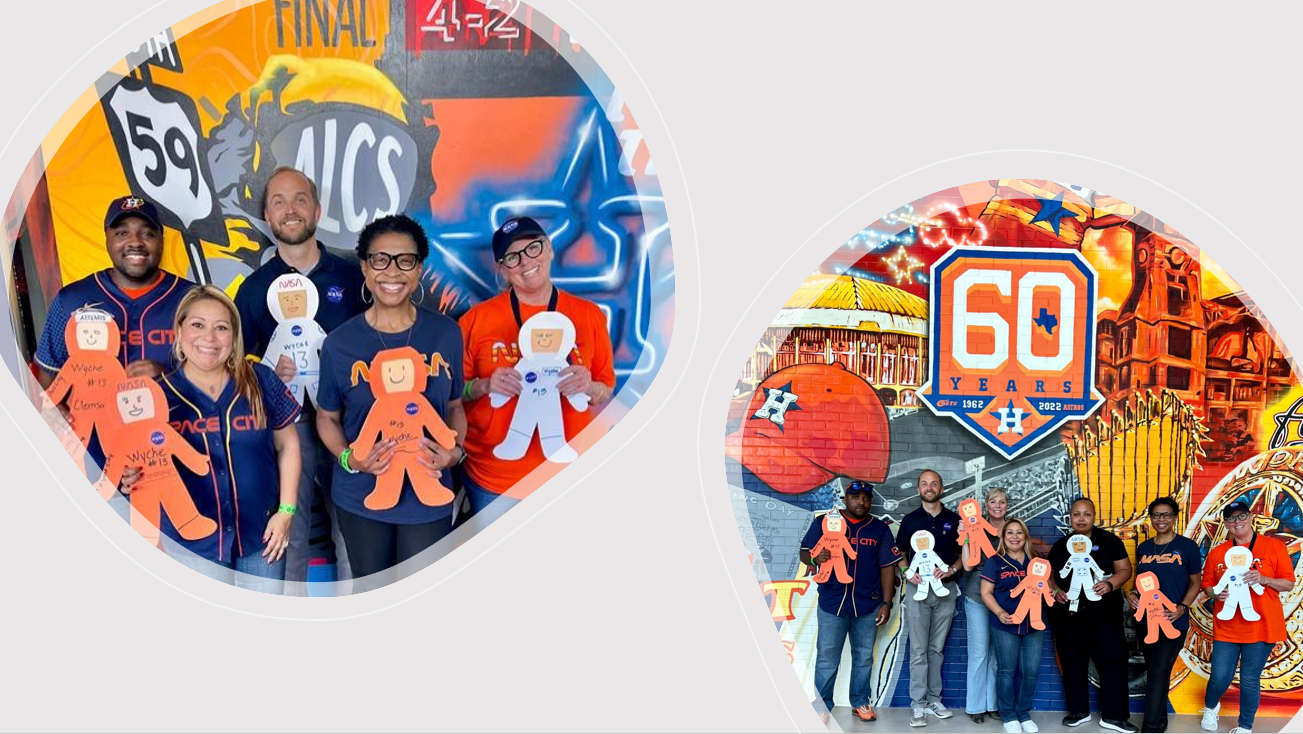 A team of Johnson volunteers will be back in support of the afternoon game on July 16. Here, Johnson volunteers pose with cut-out astronauts made during NASA Night with the Astros on May 2, 2022. Credits: Jessica Cordero