Formation of Extravehicular Activity and Human Surface Mobility Program Signals New Era for NASA
by Catherine Ragin Williams | 2022-01-18
Congress recently gave the green light to NASA to formulate a new program that aligns core human space exploration capabilities in support of Artemis.  The newly created Extravehicular Activity (EVA) and Human Surface Mobility (HSM) program will be managed out of NASA's Johnson Space Center and led by Lara Kearney, who most recently served as deputy program manager for the Gateway program. The EVA and HSM program will play critical roles in landing the first woman and the first person of color on the surface of the Moon.
The main goal of the nascent EVA and HSM program is to provide safe, reliable, and effective EVA and HSM capabilities that allows astronauts to survive and work outside the confines of a base spacecraft in order to explore on and around the Moon.
Located within the Advanced Exploration Systems Division at NASA Headquarters and supporting both the Space Operations Mission Directorate and the Exploration Systems Development Mission Directorate, the EVA and HSM program is comprised of several key elements, including ISS EVA, Exploration EVA, or xEVA; the Lunar Terrain Vehicle, or LTV; EVA and HSM technology development and partnerships; and pressurized crewed rover systems. 
"This is going to be a huge year pushing human space exploration forward," said Deputy Associate Administrator for Advanced Exploration Systems Mark Kirasich in a note to employees. "As part of this, I am pleased to announce the formation of the new Extravehicular Activity and Human Surface Mobility program. We are making this organizational change to put increased focus on these very important systems needed to build up our lunar exploration campaign."
Kearney brings nearly 30 years of experience building, testing, certifying, and operating human space flight hardware into this program manager role, and the EVA and HSM program will be able to leverage the lessons learned and expertise acquired from NASA standing up the Gateway Program Office.
As NASA edges closer to Artemis I, and integrated tests of the agency's deep space exploration systems, the needs of future missions to the Moon are becoming clearer. The new program will continue the efficient and effective development of xEVA and align the work with other elements that touch EVA systems the most. Teams already working on these futuristic projects will get additional support from a strong infrastructure and industry partnerships for the coming milestones.
The Moon may be the first exotic destination astronauts visit next, but a consolidated EVA and HSM program will help the agency methodically plot a course to Mars and beyond, and develop the technologies needed to bring deep space … near.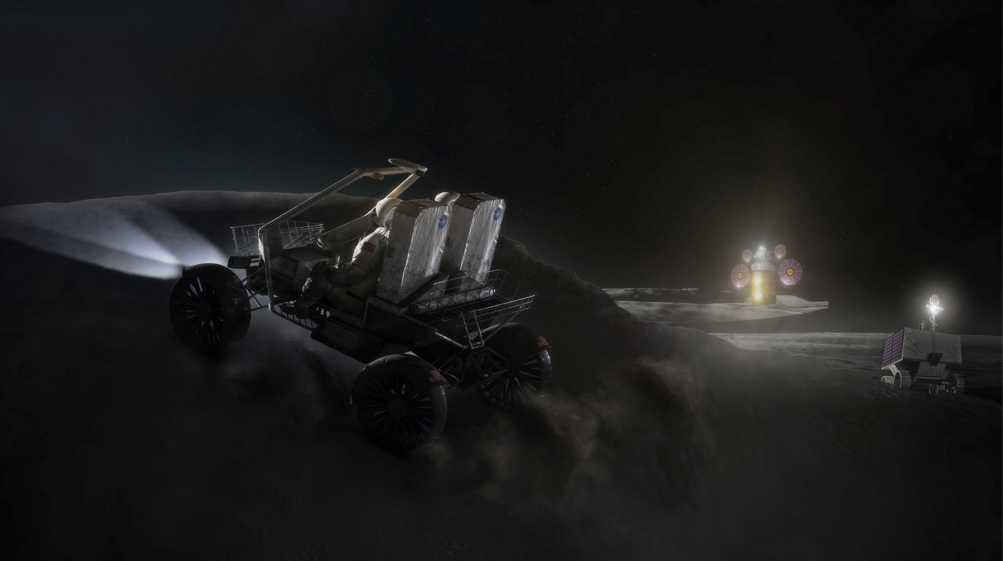 The Lunar Terrain Vehicle, seen in the foreground of this artist's concept, is one of several key elements of the new EVA and HSM program. Credits: NASA