Station Science Top News: Jan. 13, 2022
by ISS Program Science Office | 2022-01-18
The International Space Station (ISS) Experimental Chondrule Formation at the International Space Station, or EXCISS, experiment simulated the high-energy, low-gravity foundry of the early solar system to study how dust created by star-based processes turned into intermediate-sized particles and, eventually, became planets, moons and other objects. Results have provided insights into the precursors to planet formation.
EXCISS zapped a specially formulated dust (polycrystalline Mg2SiO4) with an electrical current while in microgravity and studied the shape and texture of pellets formed from these steps. Nearly all the particles formed compact aggregates, assemblies of suspended particles, during increased electric-field strengths. Electric fields were also found to lead to porosity reduction in the aggregates, which is an important process in the evolution of the precursors to planet formation.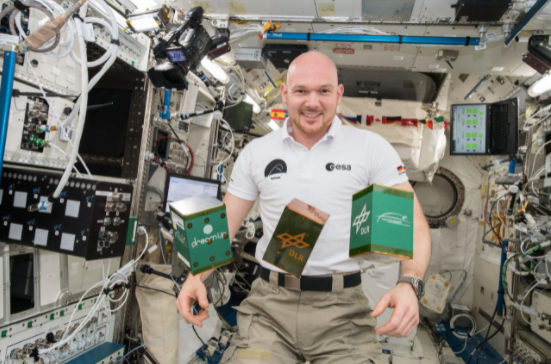 A view of ESA (European Space Agency) astronaut Alexander Gerst with NanoRacks Modules, including the EXCISS experiment, aboard the International Space Station. Credits: NASA
***
A station study of blood-based indicators of cosmonaut brain health found spaceflight negatively impacted neurological health upon their return to Earth. The researchers recommend further investigation of the subject to better understand the relationship between long-duration spaceflight and brain health.
As a part of the ISS Medical Monitoring study, blood-based indicators of brain health were collected from five cosmonauts to assess brain-tissue integrity upon their return from space. Biochemical tests found indicators of axonal injury, increased astrocytic response, and other changes typically associated with poor neurological health outcomes. Additional studies could help characterize potential brain-related risks of long-duration spaceflight.
***
This past week, the space station crew installed the Turbine Superalloy Casting Module (SCM) facility, which tests a commercial in-space manufacturing device to better process superalloy parts. If the study demonstrates the microgravity-processed parts possess superior qualities, it could improve the performance of turbine engines in industries such as aerospace and power generation.
Superalloys are metal alloys with excellent heat-resistant properties. Researchers expect processing in microgravity to provide more homogeneous structure and improved mechanical properties such as microhardness. The Turbine SCM investigation helps demonstrate the benefits of conducting manufacturing processes aboard the orbiting lab. The payload is built by Redwire Space and sponsored by the ISS U.S. National Lab.