Hamming it up for NASA's 60th anniversary
"It's kind of like being a rock star, and everyone wants to line up to talk to us."
That's how John Maca describes being part of NASA Johnson Space Center's Amateur Radio Club (JSCARC). The club was founded in 1968 and, in the past 50 years, its membership has grown to more than 100 NASA employees, contractors, family members and community members who spend their weekends making contact with amateur, or ham, radio operators around the world.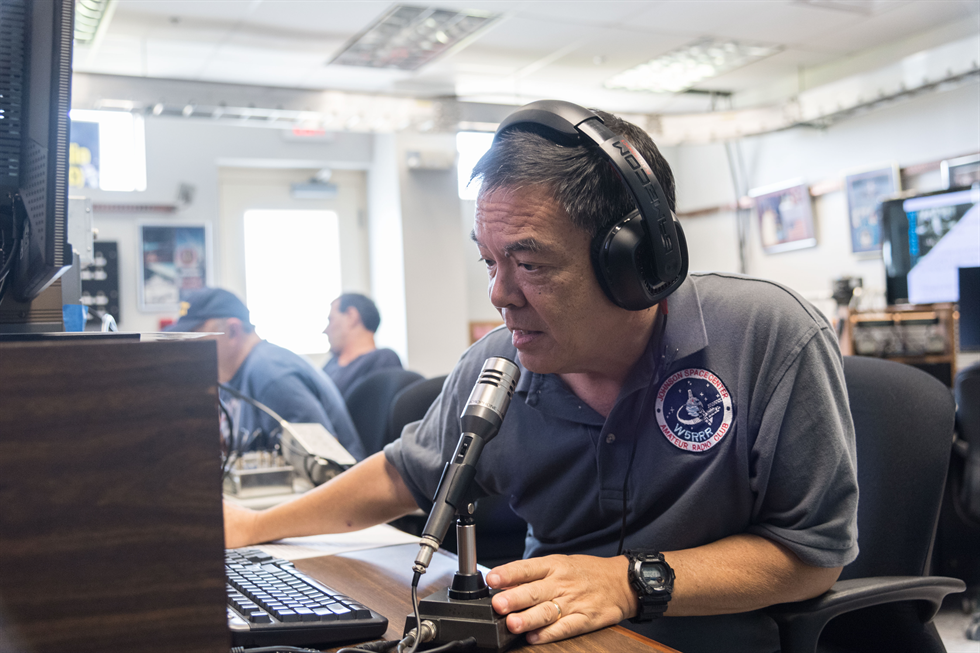 David Lee communicates with ham radio operators across the country from the JSCARC headquarters in the Gilruth Center. Image Credit: NASA
In celebration of NASA's 60-year anniversary, the JSCARC partnered with amateur radio clubs at 12 other NASA centers across the country to support a yearlong event called "NASA on the Air." The event is a commemorative competition to encourage ham radio operators across the world to make contacts with each of the NASA participating stations. Radio contacts serve as an outreach opportunity to tell the public about significant NASA milestones taking place in 2018.
The JSCARC, which has already made more than 6,500 contacts, highlighted this event with a VIP visit from Milt Heflin on July 29 to celebrate President Eisenhower signing NASA into law. Heflin, a former flight director and associate director for technical activities at Johnson, joined the JSCARC team to field questions from people nationwide.
"Hams across the nation were lined up for a chance to speak to Milt," said David Lee, vice president of the JSCARC. "What was amazing is that as we had Milt on the radio, he would bump into past acquaintances or engineers that worked directly to support him during his decorated NASA career."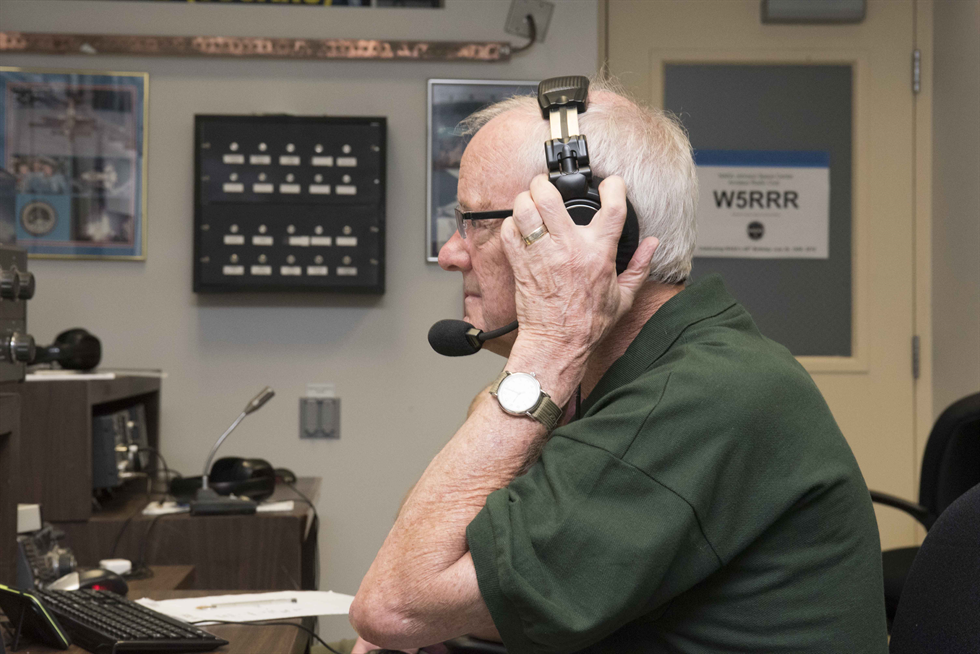 Milt Heflin has been a ham radio operator for over 60 years. He celebrated the 60-year anniversary of President Eisenhower signing NASA into law with an appearance at the JSCARC event. Image Credit: NASA
Since NASA on the Air launched in December, the clubs have combined to make nearly 20,000 total contacts with the ham radio community. That sounds like a lot of talking, but NASA usually ends up doing a lot of the listening.
"People will tell us their experiences with NASA," Lee said. "A lot of times, they have a memory of a launch or knew someone who worked on a mission. We usually get more back from them than we actually say."
The team describes this kind of engagement as the next generation of outreach. While many of the contacts are supplemental to other NASA communications avenues, such as social media or NASA TV, ham radio has the ability to contact some people who don't have access to modern media platforms.
"I am just so proud of all that you have done and continue to do," Norman, an 87-year-old who lives in a small Minnesota town with a population of 500, said over the air waves. "Keep up the good work; you make us proud."
They may not be rock stars, but Johnson's ham radio operators are definitely impacting lives.
For more information on joining the JSCARC or learning about the importance of ham radio in the case of a natural disaster, contact JSCARC President Keith Grimm at
keith.a.grimm@nasa.gov
.
Noah Michelsohn
NASA Johnson Space Center