Worth watching: Genes in Space
On
May 10, Boeing will host a televised downlink with NASA astronauts Drew Feustel and Scott Tingle at Space Center Houston, NASA Johnson Space Center's official visitor center, in Texas. The program features the
Genes in Space
STEM competition.
Founded by Boeing and miniPCR, the Genes in Space competition offers students grades 7 to 12 the opportunity to develop DNA-based experiments that could one day be performed in space by astronauts aboard the International Space Station. A panel of scientists will evaluate the proposals to select the finalists and, ultimately, a winner.
Last year's winners, both 15, will ask questions of the astronauts currently aboard the space station. Sophia Chen, who goes to school at Lakeside School in Washington, and Elizabeth Reizis, who attends Stuyvesant High School in New York, both had their experiments performed in the orbiting laboratory this past year. Their experiments, which focused on the health impacts of spaceflight on astronauts, were launched aboard NASA's 14th Commercial Resupply Service mission (CRS-14) from Kennedy Space Center on April 2, 2018. Both winners and their families observed the launch from Florida.
Last month, Reizis and Chen watched their experiments being worked on aboard the orbiting laboratory. Station crew member Ricky Arnold, one of the crew members participating in NASA's
Year of Education on Station
, ran the experiments. In a recorded message, Arnold said he was amazed at the age of the winners. The two experiments are expected to return to Earth for analysis in early May.
Chen's experiment seeks to measure genomic instability attributed to radiation exposure. Although the crew is within Earth's protective shield while on station, radiation exposure is still slightly greater—and will be greater still for astronauts traveling to the Moon, Mars and beyond. Radiation can be damaging to DNA, creating the possibility of cancer. Scientists need to be sure of the amount of damage radiation is causing, and Chen's experiment aims to validate the use of a technique to measure this relationship.
Reizis' proposal focuses on astronaut immunity, specifically looking at blood samples for traces of the differentiation process. But before relying on the tool to demonstrate this process in microgravity, the hardware must show it can perform reliably in space as it does on the ground.
Find out more by tuning in to the downlink, which will be shown on Facebook Live through NASA's Johnson Space Center Education Office. The full program begins at 10:30 a.m. CDT on Facebook Live and can be viewed here:
https://www.facebook.com/jsceducation
NASA TV will join the downlink portion from 11:15 to 11:35 a.m.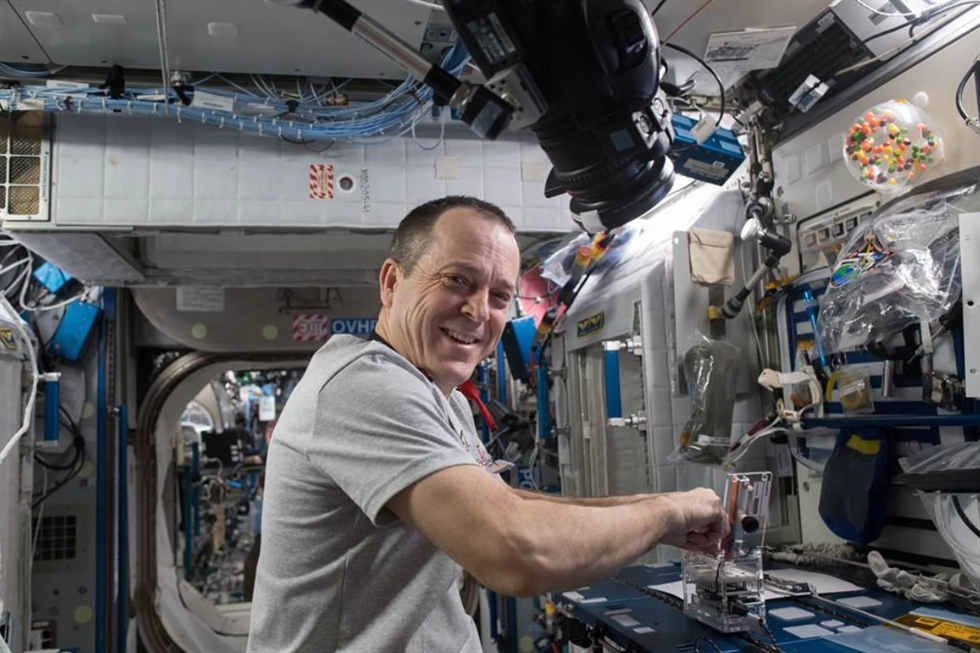 Flight Engineer Ricky Arnold works with a student-designed Genes in Space-5 experiment. Image Credit: NASA
Melanie Whiting
NASA Johnson Space Center