Dr. Frank Rubio, the First Astronaut of Salvadoran Origin, Embarks on Groundbreaking Science Mission
This Hispanic Heritage Month, NASA is celebrating the contributions of Hispanic team members — and Dr. Frank Rubio, flight engineer aboard the International Space Station for Expedition 68, continues to stack his impressive résumé in space.
Rubio and his cosmonaut crewmates Sergey Prokopyev and Dmitri Petelin arrived at station on Sept. 21, 2022, after a three-hour flight aboard a Soyuz MS-22 spacecraft. The trio just experienced their first full week conducting scientific investigations that will encompass research in technology development, Earth science, biology, human research, and more during their six-month excursion.
Rubio, who was selected by NASA to join the 2017 Astronaut Class, is the first astronaut of Salvadoran origin to go to space. And while the NASA explorer grew up in Miami, Florida — his mother calls El Salvador home.
Before coming to NASA, the Florida native graduated from the U.S. Military Academy at West Point, New York, in 1998, and later earned a Doctorate of Medicine from the Uniformed Services University of the Health Sciences in 2010. Prior to attending medical school, he served as a UH-60 Blackhawk helicopter pilot in the U.S. Army and flew more than 1,100 hours, including more than 600 hours of combat and imminent danger time, during deployments to Bosnia, Afghanistan, and Iraq. The father of four also happens to be a board-certified family physician and flight surgeon.
Rubio is already expanding his understanding of the human body, gaining firsthand knowledge of the effects of microgravity while also participating in targeted biology studies like the Food Physiology experiment. This study explores how enhancing space nutrition influences the human immune and microbiome systems. A host of space biology investigations require samples from astronauts to understand how human physiology adapts to the weightless environment aboard station.
The flight engineer recently lent his expertise to physical studies, too, working in the Microgravity Science Glovebox for the Intelligent Glass Optics space manufacturing investigation. This experiment uses artificial intelligence to help adapt materials-processing techniques for complex glasses, which could be used for a variety of applications in space and, later, on the ground.
For daily updates on the crew in space, including Rubio, follow @ISS_Research, Space Station Research and Technology News or Facebook. Follow ISS National Lab for information on its sponsored investigations.
For opportunities to see the space station pass over your town, check out Spot the Station.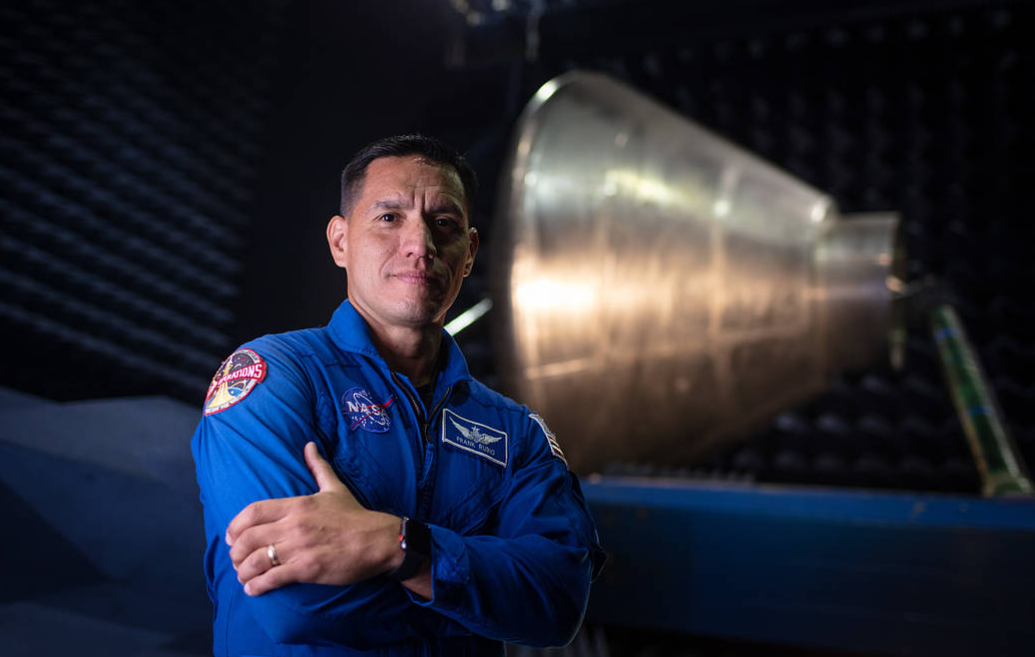 Dr. Frank Rubio was selected by NASA to join the 2017 Astronaut Candidate Class and reported for duty in August 2017 and having completed the initial astronaut candidate training. In this image, Rubio stands in the anechoic chamber on July 10, 2019, at NASA's Johnson Space Center in Houston. Credits: NASA/Bill Ingalls