Peanuts Returns with New NASA Collaboration in Time for Artemis I
by Cameron Bristow | 2022-08-01
With the launch of Artemis I just around the corner, NASA's Space Flight Awareness (SFA) Program has once again partnered with Peanuts Worldwide, LLC, to bring Snoopy into Artemis festivities.
Snoopy has played an important role with NASA in the history of both the agency and the character. Snoopy first debuted in the Peanuts comic strip in the 1950s and has ties with NASA dating back to the Apollo missions of the 1960s. The iconic character appeared in a series of posters promoting safety messages in support of the Apollo program and, later, interacted with the first-ever space station. With such a rich history, it is only fitting for the beloved character to return for Apollo's sister missions with Artemis.
Since then, Snoopy has played a major role in other capacities across the agency, including the Silver Snoopy award. This award is a silver pin depicting Snoopy as an astronaut.
"The first Silver Snoopy award was bestowed in 1968. Since its inception, this award has been a prominent part of the SFA Program and awarded to thousands of individuals — but less than 1% annually — who have contributed to astronaut safety and mission success," said Dr. Alotta Taylor, SFA Program manager. "We are delighted to know Snoopy will have the opportunity to fly again and be a part of the Artemis Program."
A package of Silver Snoopy pins is set to fly into space with Artemis I, which will be distributed in the future.
One exciting aspect of a more recent collaboration comes with the return of Snoopy as the "zero-g indicator," or ZGI. Traditionally, a ZGI has been a small plush that indicates when a spacecraft has entered microgravity. Soon, for Artemis I, the Snoopy plush will don an updated version of its iconic spacesuit outfit with the NASA insignia in the center. The public can track ZGI's location through the web-based Artemis Real-time Orbit Website, or AROW, tool, by following @NASA_Orion on Twitter, where NASA will publish Orion's position and status throughout the mission.  
Additionally, Snoopy is set to return for a new poster in connection with SFA's motivational program, which encourages spaceflight crew safety and quality workmanship among NASA employees and contractors. This poster is an homage to a past poster that was displayed at the opening of Space Center Houston. The new version, conceived by the Exploration Systems Development Mission Directorate in partnership with the SFA Program, was created in collaboration with Peanuts Worldwide, LLC (Peanuts). Peanuts found the original artwork and agreed to modify it for NASA's new usage.
The poster design was brought back with the goals of employee motivation and building safety awareness for the Artemis I mission.
If you'd like to learn more, you can read about Snoopy's past, present, and future with NASA through these resources:
For more information about NASA's Space Flight Awareness program and to access current mission posters, head here.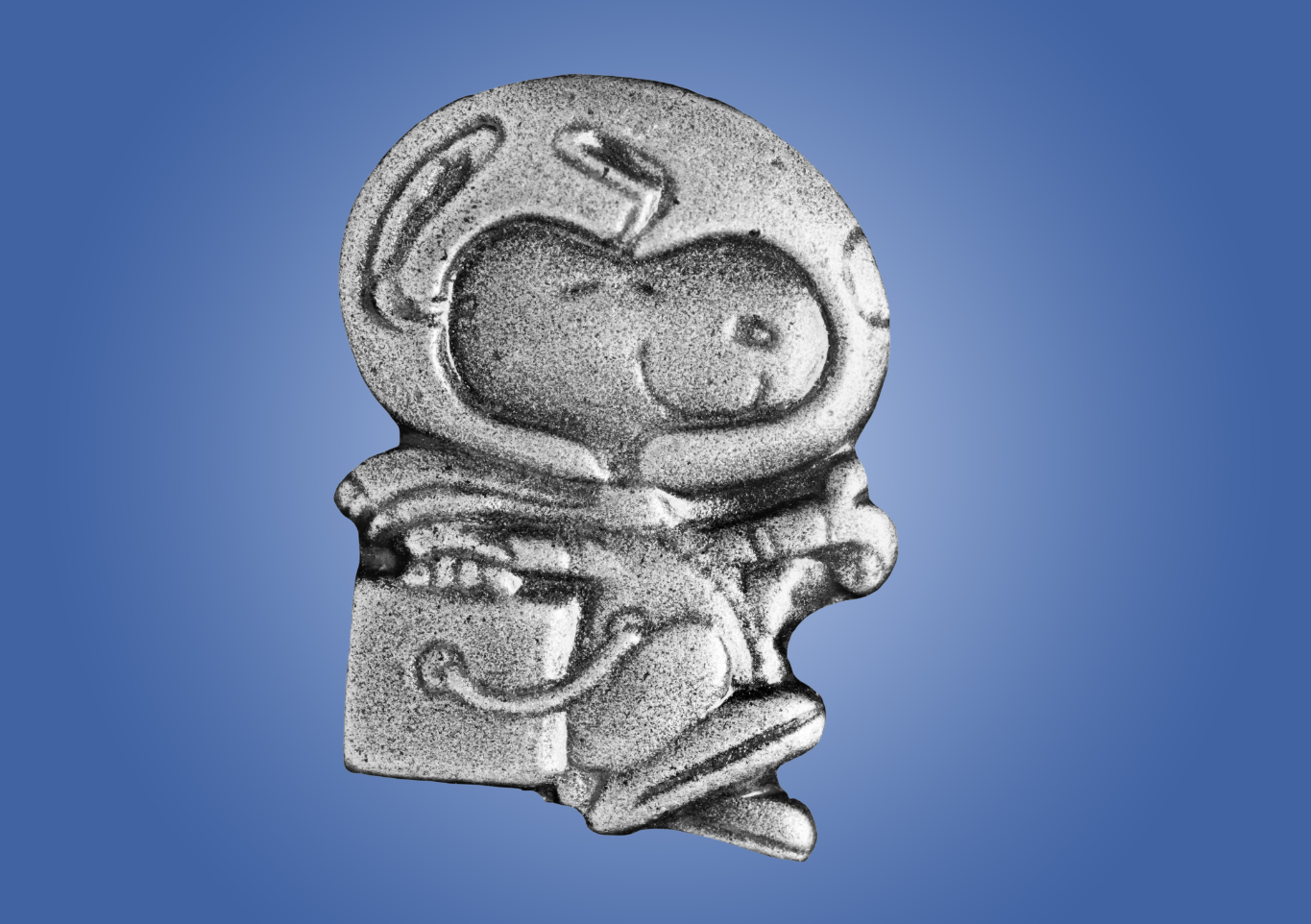 Silver Snoopy pin handed out by Space Flight Awareness to less than 1% percent of NASA's workforce. Awardees of the pin are recognized for having contributed to astronaut safety and mission success. Credits: NASA