NASA's Johnson Space Center Signs Space Act Agreements with Texas Universities
by Jasmine Nehilla | 2022-07-05

This spring, NASA's Johnson Space Center signed Space Act agreements with the University of Houston (UH) system, Texas A&M University system, and Texas Southern University. These agreements are an expansion of long-term partnerships that will allow for collaborative facilitation of research and technology transfer and provide a sustainable pipeline of career development opportunities for the Artemis generation in science, technology, engineering, and mathematics, or STEM, roles at Johnson — creating game changers.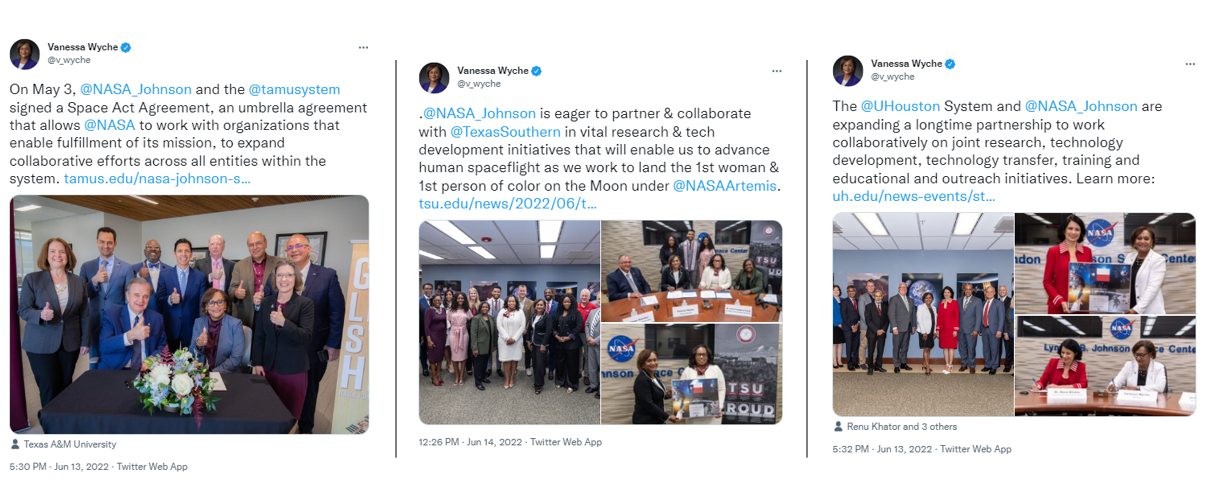 Johnson Director Vanessa Wyche shared the good news about recent Space Act Agreement signings via her Twitter account, @v_wyche.   
"NASA's Johnson Space Center has a long history of working with colleges and universities since the early days of Mercury, Gemini, and Apollo programs to help us achieve our human spaceflight missions," said Johnson Director Vanessa Wyche. "We are eager to partner and collaborate with local universities in vital research and technology development initiatives that will enable us to meet our nation's exploration goals and advance human spaceflight as we work to land the first woman and first person of color on the Moon under Artemis."
Through the Space Act agreements, students enrolled in these institutions will benefit from educational outreach opportunities including — but not limited to — seminars, campus-wide open houses, and classroom visits, as well as gain tangible experience through interactions with NASA subject-matter experts.
"This Space Act Agreement is an embodiment of Texas Southern University's commitment to its guiding principles of innovation, transformation, and disruption," said Dr. Lesia L. Crumpton-Young, Texas Southern University president. "This partnership will make a difference in the lives of our students and faculty. As the university continues to work tirelessly to provide opportunities for students and achieve unprecedented success at an accelerated pace, it is our belief that this partnership can be a model for other HBCUs (historically black colleges and universities) throughout the country in changing the landscape of engineering and other STEM disciplines."
University faculty will also participate in NASA research and technology initiatives, technology transfer programs, and have access to unique NASA facilities and laboratories.
"Houston is 'Space City,' so it's important for students and faculty in relevant disciplines across the UH system to have opportunities to engage in and be exposed to real-world spaceflight-related research and technology development with NASA," said Dr. Renu Khator, UH system chancellor. "These are the kinds of projects that shape lives and create innovations for the greater good."
NASA is also in conversation with Prairie View A&M University, as well as Rice University, for the expansion of future partnerships to broaden and retain our position as the home for human space exploration.
"NASA employs its share of A&M system alumni, and we have many former astronauts teaching on our campuses," said John Sharp, chancellor of the Texas A&M system. "So, I think it is fair to say that the Texas A&M system is in a strong position to make a difference in space research and exploration."
Dr. Kamlesh Lulla, manager of Johnson's University Collaboration and Partnerships Office, works on collaborative agreements used to provide mutual leverage of government, university, and industry resources in the cooperative pursuit of joint-interest research and technology development efforts. For questions about university collaboration and partnerships, or to learn how you can get involved with any of the universities above, please contact Lulla at kamlesh.p.lulla@nasa.gov.