Pioneering Flight Surgeon Dr. Charles Berry Dies at 96
by Catherine Ragin Williams | 2020-03-06
On Saturday, Feb. 29, Dr. Charles "Chuck" A. Berry died at 96 years old. Berry, a NASA physician who helped select the country's first astronauts, was considered a pioneer in aviation medicine throughout his 68-year career.  
"Dr. Charles Berry was a founding member of the NASA family who will be greatly missed," said NASA Johnson Space Center Director Mark Geyer. "From playing a key role in selecting the original seven Mercury astronauts, to providing personal medical support from mission control for Apollo missions, to a distinguished career in Houston after departing NASA, Chuck was a unique person who made an indispensable contribution to human spaceflight. He also was a friend and colleague of us at JSC throughout his life."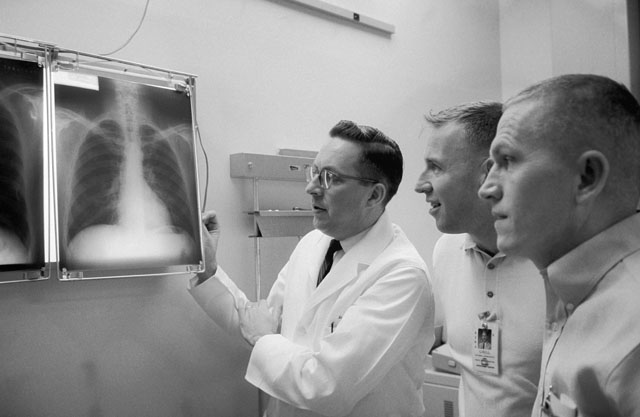 Dr. Charles A. Berry (left), chief of the Manned Spacecraft Center's Medical Programs, and astronauts James A. Lovell Jr. (center), Gemini 7 pilot, and Frank Borman, Gemini 7 command pilot, examine a series of chest X-rays taken during the preflight physical. Image Credit: NASA
Berry was one of the first to embark on a career in the novel new field of aviation medicine after joining the Air Force. He moved to San Antonio, Texas, to begin a residency at the U.S. Air Force School of Aviation Medicine. After a year of training there, Berry was sent to Panama, where he served for three years as a flight surgeon, assisting Central and South American countries in setting up their own aviation medicine programs and and flying rescue missions.
Upon returning to the United States, Berry completed his residency, receiving a master's degree in Public Health from Harvard University. He returned to San Antonio in 1956, where he became chief of the Department of Flight Medicine at the U.S. Air Force School of Aviation Medicine, and began studying the effects of high-altitude flight on pilots soaring to the edges of the atmosphere.
Only two years later, NASA was created. In 1957, Berry was one of the physicians selected to fly to Washington to help select test pilots to "fly" a military rocket into outer space. Those pilots would later have the distinction of being called "astronauts" — and Berry had a hand in their selection. He and his fellow physicians invented ways to test these pilots to see which ones would best meet the demands of space (as it was then understood). These elite medical professionals, too, were responsible for devising methods to monitor the astronauts who were completing daring mission into the unknown.
Berry left the Air Force after 16 years to start a long NASA career, which ended in 1974. During his time at NASA, Berry was involved in selecting subsequent classes of astronauts following in the hallowed footsteps of the Original Seven. In all, he helped send 42 individuals into space in over 30 missions — including Apollo 11 — during which Neil Armstrong walked on the Moon. During that historic mission, Berry monitored the crew.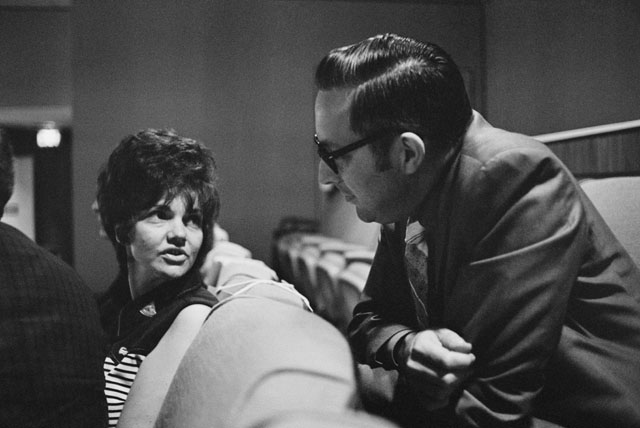 Mrs. Marilyn Lovell, wife of astronaut Lovell, Apollo 13 mission commander, discusses the flight with Flight Surgeon Berry. The two are in a special viewing area overlooking the Flight Control Room, staffed with flight controllers who were supporting the planned lunar landing mission. Image Credit: NASA
Berry retired from NASA as the director of Life Sciences to become the first president of the University of Texas Health Science Center Houston. Some of his notable accomplishments throughout his nearly seven decades of service include serving as house physician at KPRC, Channel 2 News in Houston, where he did on-air health segments. He also worked as an aviation medical examiner for the Federal Aviation Administration and was an aerospace medicine consultant for many years. In 1979 and 1980, the pioneering physician was nominated for the Nobel Prize in Medicine and Physiology.
"To me he was a father, a friend, a mentor and a colleague, as he was to many of you," said his son Dr. Michael A. Berry in a statement. "Dr. 'Chuck' from Apollo 13 fame was known to many in this country, and around the world. He will be missed."

His groundbreaking work inspired a giant leap of another kind — one in medicine and astronaut health.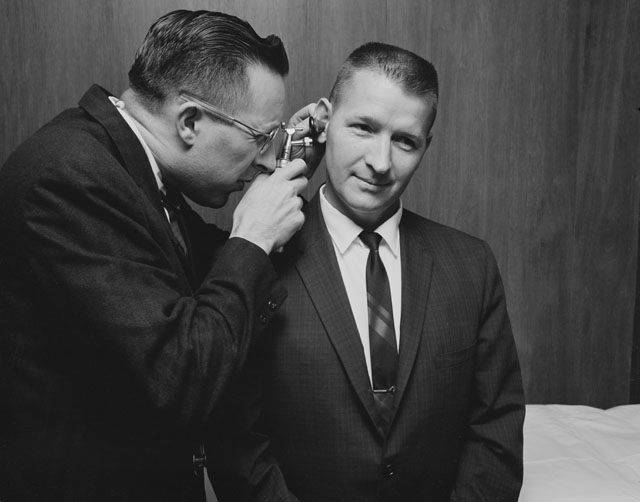 View of Berry, left, as he examines Halley M. Bishop. Image Credit: NASA
"Dr. Charles Berry was a singular leader in space medicine," said Johnson Chief Medical Officer Dr. Terrance Taddeo. "His efforts during the Mercury, Gemini and Apollo programs helped to achieve the first human Moon landing and gained him almost mythical status among his peers. Well respected by past and present NASA flight surgeons, he remained a sought-after figure at aerospace medicine conferences for the rest of his life. He will be greatly missed by those of us involved in space medicine and human health and performance."
For more on Berry's inspiring life and work, see
his oral history transcript with Johnson's History Office
.