Roundup Presents: The Directors Series (VA)
by Noah J. Michelsohn | 2019-06-19
Preparing to Launch
Steve Stich was preparing for flight from the time he could read.
"By the time I reached fifth grade, I think I had read every book in the library on rockets and airplanes," Stich said.
This passion only grew after visiting NASA's Johnson Space Center during a middle school field trip, when he set his sights on returning to Johnson as soon possible. Following his graduation from Texas A&M, Stich joined Mission Operations at Johnson, fulfilling many jobs throughout his career including flight director and deputy director of the Engineering directorate.
Stich now serves as deputy manager of the Commercial Crew Program (CCP) at Johnson, where he works with program manager Kathy Lueders at NASA's Kennedy Space Center to lead the agency's efforts to return launch capabilities to American soil.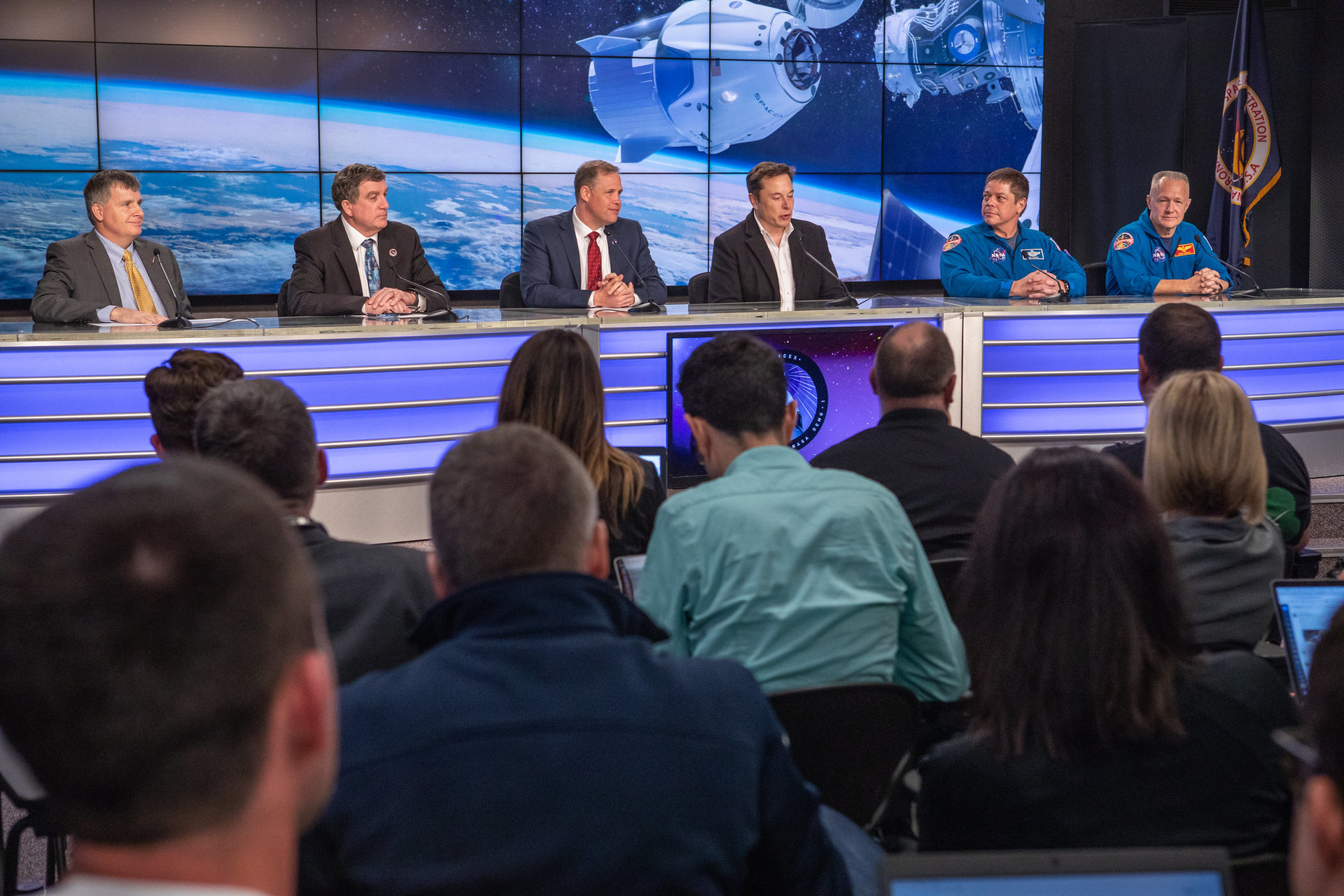 Stich (left) at the post launch press conference following the launch of DM-1, the successful uncrewed test flight of the SpaceX Crew Dragon spacecraft.
"The great thing about CCP is that I get to take everything I have learned at NASA to create something completely new," Stich said. "To launch humans into space—in a new way—is a great challenge, but at the same time, it is extremely exciting."
While the challenge stems from developing and testing new human-rated vehicles for U.S. launch for the first time since the space shuttle was designed in the 1980s, the excitement comes in the form of fulfilling two important NASA missions: providing transportation to the International Space Station and spurring growth in the commercial space industry.
"This is the first time I can remember a NASA program having such dual purposes," Stich said. "We are not only building, testing, and flying new spacecraft and launch vehicles to station, but also attempting to establish an entirely new space economy in the process. It is quite revolutionary in human spaceflight."
The program will expand the science capabilities of the space station by increasing the USOS crew size from three members to four and improving capabilities to bring science up and down on the crew vehicles. At the same time, CCP has been fostering growth in the commercial space industry and laying the foundation for future commercial partnerships as NASA approaches daring missions to the Moon in the 2020s.
To facilitate commercial growth, CCP has been a testing ground for a new business model with fixed-price contracts and a less-specified approach to requirements, where NASA sets high-level specifications and safety requirements and allows commercial providers more flexibility to innovate.
"This is a little bit daring," Stich said. "This model requires us to trust our partners. We are still are going to ensure the spacecraft is safe for the crew, but it's definitely a daring new approach."
While NASA has given industry more freedom in development, CCP is uniting with the providers each step of the way. This has included everything from offering technical expertise to sharing lessons learned from NASA's own development programs.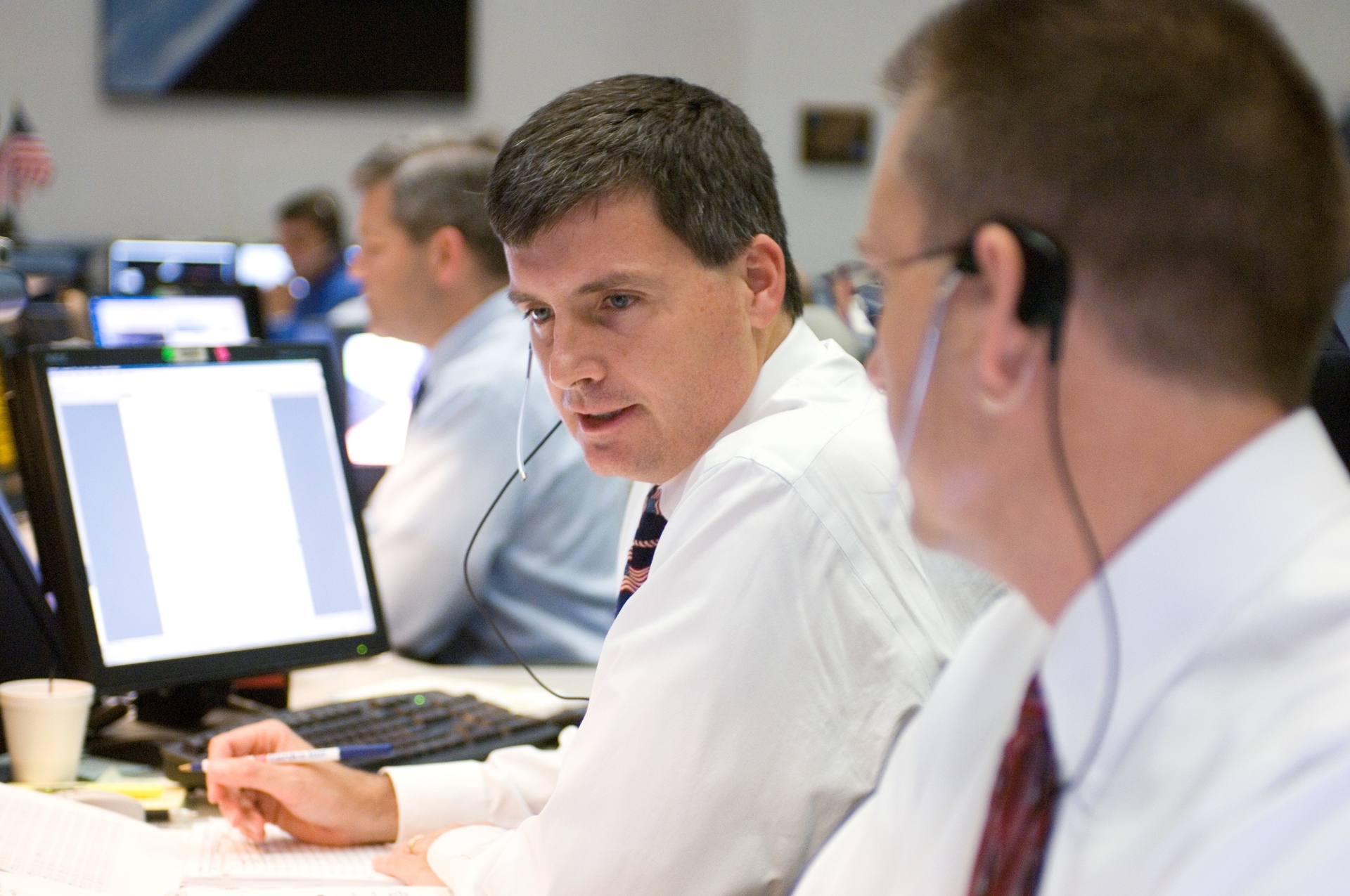 Steve Stich on console in Johnson's Mission Control Center during a space shuttle mission.
"When you're not designing a new spacecraft, launch vehicle, or launch pad, you lose those skills," Stich said. "It's been a generation since we developed the space shuttle, so we are re-energizing the industry and instilling a new generation of engineers with the skillset that will allow us to complete daring missions going forward. I am so proud of the team here at Johnson and across NASA that work the Commercial Crew Program. They put in long hours and are dedicated to getting our new crewed spacecraft flying to station. It is an honor to work with such a talented team."
Preparing a new generation of engineers for spaceflight is proving to be key for NASA's lunar ambitions, as commercial companies have already been selected to develop lunar landers and payload services to ferry astronauts on the surface of the Moon.
This all aligns with NASA's goal to enable the commercialization of low-Earth orbit and turn the agency's focus to leading sustainable exploration programs to the Moon and Mars.
"Space station gave us a blueprint for working with international partners, and Commercial Crew taught us how to create and foster industry partnerships," Stich said. "We can now combine both of these models to enable success for Gateway and Artemis. This will take us forward to the Moon."
While Stich knows that sending humans to the Moon and on to Mars is ultimate goal for NASA, he is just as excited about the prospect of launching astronauts from American soil as early as this year.
"I hope these missions will inspire the nation," Stich said. "I grew up reading about the Apollo. Kids growing up today will be reading about our next great adventures that will launch on Orion, Crew Dragon and Starliner."
When the next generation of students begin to read about space, Stich will have left his mark in spaceflight history. And who knows? Maybe the field trip that inspires those explorers will be on a commercial spacecraft to low-Earth orbit.
Noah J. Michelsohn, Johnson Space Center

Steve Stich is deputy manager of NASA's Commercial Crew Program at the Johnson Space Center.This story is part six of The Directors Series, highlighting Johnson's mission of Dare. Unite. Explore. Stay tuned for stories from each directorate and find  previous stories on the directors website.